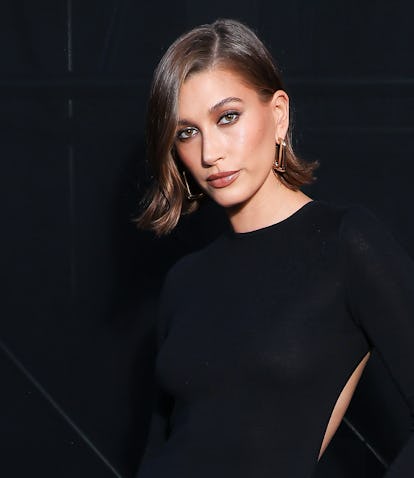 Hailey Bieber Addressed Those Pregnancy Rumors
A few recent photos have caused a stir online.
Hailey Bieber has dealt with wild rumors about her love life before, and now she's doing it again. After a few recent photos of Hailey sparked speculation that she may be expecting her first child with husband Justin Bieber, the model addressed the rumors head-on in a new interview. Suffice it to say, she's fed up with all the online chatter about her personal life.
Pregnancy rumors have constantly swirled around Hailey ever since she married Justin Bieber in 2018. Justin has been very vocal about wanting to be a dad someday, which has led fans to overanalyze any possible pregnancy tells from the couple.
The latest photo that had everyone talking was a romantic pic Hailey posted in honor of her five-year wedding anniversary with Justin on Sept. 13. At the end of the carousel of photos, a shot of Hailey smiling while Justin embraced her from behind and kissed her cheek caught fans' attention.
In the pic, Hailey and Justin are resting their hands on Hailey's stomach. Commenters took the pose as a pregnancy soft-launch. But Hailey set the record straight in her October GQ cover story.
"Recently, everybody was like, 'Oh, my God, she's pregnant,' and that's happened to me multiple times before," Hailey said, going on to admit the constant rumors really bother her. "There is something that's disheartening about, Damn, I can't be bloated one time and not be pregnant? It would be a lie if I was like, 'Oh, yeah, I don't give a sh*t.'"
Hailey said that if she does become pregnant in the future, she doesn't plan to be public about it. "When there comes a day that that is true, you — you, as in the internet — will be the last to know."
While Hailey knows it's "probably totally unavoidable" for her to raise children completely out of the spotlight, she wishes that weren't the case. "[Motherhood] is something that I look forward to. It's also such a private, intimate thing," Hailey said. "It's something that's going to come when it comes. And it's just, honestly, at the end of the day, so hilarious how much people f*cking care. Let me do what I want to do with my body and you guys can do what you want to do with your body — and let's just let it be that."