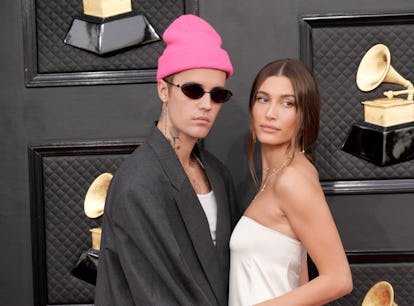 Hailey Bieber Says She's Not Pregnant And Wants To Be Left Alone
Jeff Kravitz/FilmMagic, Inc/Getty Images
Hailey and Justin Bieber were one of the most talked-about couples at the 2022 Grammys. The stars not only made headlines for showing some major PDA on the red carpet but also for sparking pregnancy rumors. Now, Hailey has directly addressed the speculation on Instagram, and her response is clear as day.
Following the couple's Grammys appearance on April 3, Radar Online ran an article with the headline, "Fan Are Convinced Hailey Bieber Is Pregnant After She Walks Grammys Red Carpet In Flowing Gown With Husband Justin Bieber." It is true that Hailey wore a long, white Saint Laurent gown on the red carpet; however, she is squashing the pregnancy rumors.
"I'm not pregnant leave me alone," she commented underneath the publication's Instagram post featuring the headline and a photo of the couple at the Grammys.
Hailey, who tied the knot with Justin in 2018, has addressed her opinions on having children before. In a February interview with Wall Street Journal, Hailey explained she initially wanted to have kids "right away" after getting married.
However, she's since changed her mind. "There's this thing that happens for women when you get married. Everybody always assumes it's: First comes love, then comes marriage, then comes the baby. Well, what about all the things I want to accomplish in my business?" Hailey told the publication.
While the model continued telling WSJ that she and Justin want to have kids someday, they're not in any rush. "I think ideally in the next couple of years we would try. But there's a reason they call it try, right?" Hailey said. "You don't know how long that process is ever going to take. Definitely no kids this year; that would be a little bit hectic, I think."
So there you have it. Hailey and Justin are not expanding their family anytime soon.