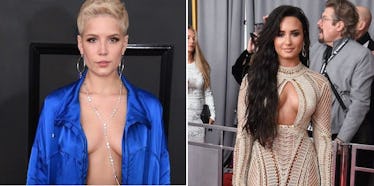 Demi Lovato, Halsey And Other Celebs Who Rocked Their Cleavage At The Grammys
REX/Shutterstock
Ah yes, the Grammys. The time of year when the world comes together to celebrate the continually uniting and unanimously adored world of music, melody and, of course, cleavage.
Stars TURNED UP AND TURNED OUT this year and so did their number one (and two) ladies.
Hey, if you've got it -- flaunt it.That's what I ALWAYS say.
OK, you caught me; that's me and my dog, not a celebrity.
Here are the celebrities.
Let's start with the OG queen of pop, the one, the only -- Ms. Britney Spears.
HALLO LADY(s)!
Britney (bitch) hit the carpet in a jaw-dropping sheer mini dress, and no one was mad.
"Confident" singer Demi Lovato also arrived, bringing her amazing chest -- we mean -- confidence with her.
In an otherwise fairly modest long-sleeved, slim-fitting gown, Demi decided to accentuate her toned, contoured cleavage -- and, like, not that I would ever tell this bad-ass lady what to do, but I am just going to say SHE MADE THE RIGHT CHOICE.
Next, we have the always fearless, endlessly inspiring and terrifying (in a good way) Lady Gaga. 
Leave it to Mother Monster to throw convention out the window and rock UNDERBOOB instead of INSIDE BOOB.
What? Inside boob isn't what the kids are calling it these days?
"Closer" singer Halsey had us all wanting to get closer to her.
Not to mention, the silky PJs didn't look like the worst thing we've ever seen, and TBH she looks more comfortable than I feel sitting in my sweatshirt right now.
And, of course, anyone who tuned into the E! Red Carpet couldn't help but get an eyeful of Tinashe and her fashion wonder.
And to her, we say, bravo, babe. BRAVO.
If you need me, I'll be over here watching the rest of the evening dipping french fries in frosting thinking about buying a push-up bra on Amazon.
Happy Grammying!