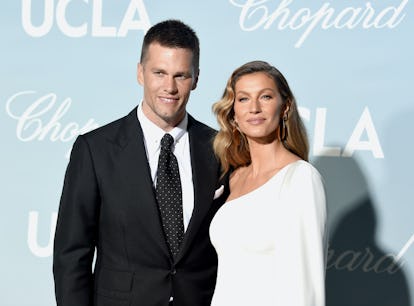 Gisele Finally Spilled The Tea On Her & Tom Brady's Divorce
"I look back and I have no regrets."
Kevin Winter/Getty Images Entertainment/Getty Images
Gisele Bündchen is setting the record straight about her divorce from ex-husband Tom Brady. In a new interview for Vanity Fair's April 2023 issue, the model shut down rumors that she and Brady split over his decision to un-retire from professional football in March 2022. He initially announced his first NFL retirement a month before, and Bündchen congratulated him on leaving behind an impressive legacy.
"Listen, I have always cheered for him, and I would continue forever," Bündchen told Vanity Fair, calling the initial media buzz "very hurtful." "If there's one person I want to be the happiest in the world, it's him, believe me. I want him to achieve and to conquer. I want all his dreams to come true. That's what I want, really, from the bottom of my heart."
When Brady announced his second retirement in February of this year, there was speculation that his new title could change the trajectory of their relationship. However, a source reportedly told People while Bündchen was "sincerely happy" for his decision at the time, she was no longer focused on his career.
Bündchen's comments mark the first time she's publicly spoken about her divorce. Amid months of reported tension in their relationship, they finalized and announced their divorce in a statement on Instagram last October. The duo share two kids together: 8-year-old daughter Vivian and 13-year-old son Benjamin.
Bündchen continued in her Vanity Fair cover, noting that "everything written" about their split isn't true. "What's been said is one piece of a much bigger puzzle," Bündchen said. "It's not so black and white." It appears the end of their nearly 13-year marriage had been on the horizon for some time. According to Bündchen, the duo gradually drifted apart due to wanting "different things" in their marriage.
"Sometimes you grow together; sometimes you grow apart. When I was 26 years old and he was 29 years old, we met, we wanted a family, we wanted things together. As time goes by, we realize that we just wanted different things," she said, noting that their decision to split doesn't mean they don't care for one another. "In order for you to be authentic and truly live the life that you want to live, you have to have somebody who can meet you in the middle, right? It's a dance. It's a balance."
Even though Bündchen described the end of their marriage as "the death of her dream," she and Brady are still on good terms. "We're not playing against each other. We are a team, and that's beautiful. I look back and I have no regrets. I loved every bit of it," she said.
It's great that Bündchen was able to clarify her side of the story.