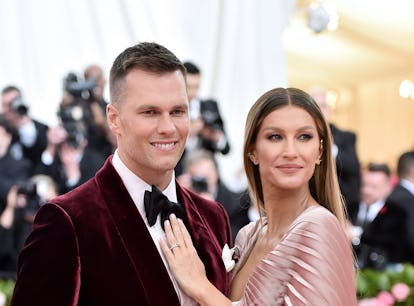 Tom Brady & Gisele Bündchen Toured A School For Their Kids Separately
Theo Wargo/WireImage/Getty Images
In October 2022, when Tom Brady and Gisele Bündchen announced their divorce after 13 years of marriage, they made it clear that they would continue to put their kids' interests first. And it seems like they're sticking to their promise — in January, the two were spotted visiting an elite Miami school for their children, even if they did so separately.
"My priority has always been and will continue to be our children whom I love with all my heart. We will continue co-parenting to give them the love, care and attention they greatly deserve," Bündchen wrote on Instagram at the time of their breakup announcement. Brady echoed the sentiment, writing in his own statement, "We are blessed with wonderful and beautiful children who will continue to be the center of our world in every way. We will continue to work together as parents to always ensure they receive the love and attention they deserve."
That TLC has involved paying close attention to their children's education. Per Page Six, both Brady and Bündchen toured the Miami school, though they didn't go together. "She came in first and then he came at another time," an insider told the outlet.
Tuition for the school in question reportedly costs between $36,400 and $46,700. "It's not [very] academic. It's like a country club for rich kids," the same insider told Page Six.
Brady and Bündchen share two children, Benjamin, 13, and Vivian, 10. (Brady has another son, Jack, 15, with his ex Bridget Moynahan.) Their custody agreement seems pretty chill. A source told People in November, "[Their children] can see whichever parent they want. They've got a schedule, but neither of them would prevent their kids from seeing the other parent. That's not who either of them are."
It helps, of course, that Brady and Bündchen's Miami homes are so close to each other. "You could literally swim from Gisele's place to Tom's — not that they would — but both homes will include a dock, so it would be very easy for them to co-parent their children while living so close to each other," a source told Page Six on Nov. 10.
Agreeing on a school — even if it is rumored to be a "country club for kids" — seems like another strong step in the cordial co-parenting direction.