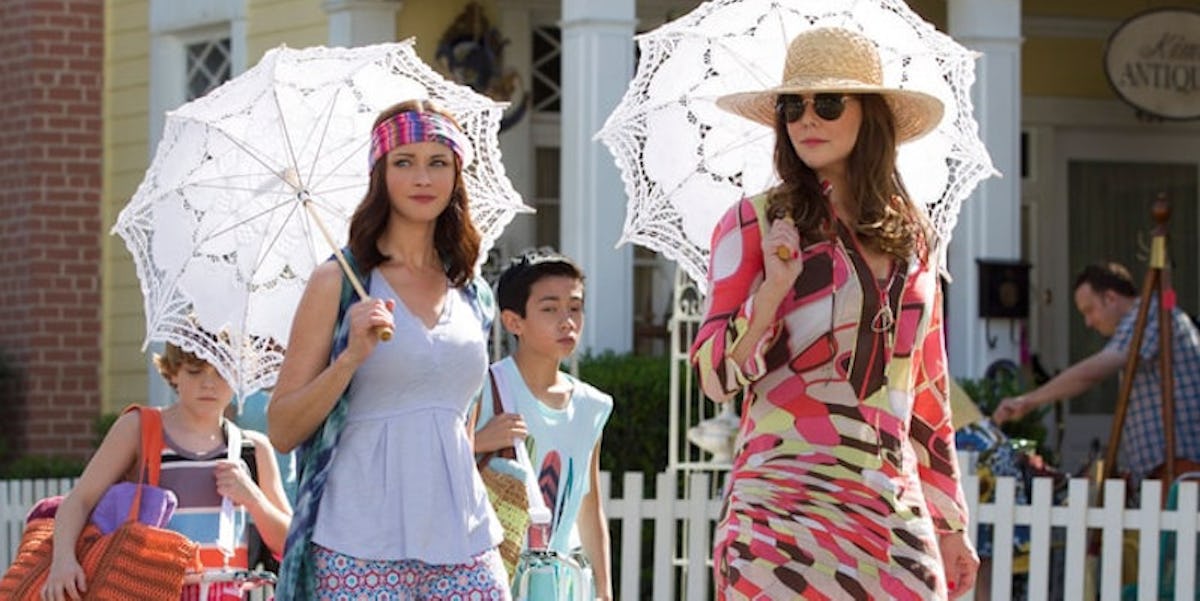 All The Things The 'Gilmore Girls' Went Through, So We Won't Have To
Netflix
Nostalgia.
That's the word many writers used when describing the anticipation surrounding the "Gilmore Girls Revival: A Year in the Life" on Netflix. Please note there are multiple spoilers ahead.
Yet, the most nostalgic event of the year was less a walk down an idyllic Stars Hollow memory lane, and more a wake up call for a generation which has almost perfected standing still.
The change which defines the revival was a shock at first -- the aged characters and new camera angles blatantly showed this was not the same Stars Hollow we said goodbye to nine years ago.
Our beloved characters moved on from our childhood, leaving us to play catch up real quick.
The show's creators allowed the storylines to revolve around the show's most major change -- the passing of its patriarch Richard Gilmore.
The revival is a journey of adjustment to life without him as his death inspires the characters' decisions throughout the show.
However, the revival also has more to offer in the way it parallels our lives now as Millennials. Each character's story can teach us a lesson we should know, or at least realize, about life.
Millennial Full Circle
One thing that stayed the same was the nail on the head accuracy with which "Gilmore Girls" captures and reflects our generation's experiences.
Rory's plans for journalism stardom didn't go as smoothly as hoped for following her stellar academic career.
Like many of us, she moved back home. Like many of us, she couldn't find a job she liked and like many of us, she was unable to have a stable, long-term relationship.
Instead, she had a classic "situationship" as Logan's "outside woman."
Rory, for all her talent, beauty and intelligence turned out to be just another 32-year-old; a flawed human being who made questionable decisions in her love life and in her career, and who complained she "smelled of failure."
We'll Always Have Paris
On the other end of the spectrum, there was Paris. A shamelessly strong, driven embodiment of worldly success.
In her power suits, sharp haircut and high heels, Paris was everything many of us hope to be -- the powerful, in control, on the move woman of business.
Yet one glance at her high school crush Tristan during a visit to Chilton sent her into a frenzied, regressed version of herself; an unwanted, undesirable girl who couldn't get the guy.
Compounded by a run-in with Puff leader Francine in the ladies' room, Paris, for everything she had become, failed to grow up from the awkward, desperate, outsider child she had once been and in some ways still was.
Though undeniably lovable, her character is another wake up call that there's no such thing as perfect.
Change
So. Much. Change.
"Gilmore Girls" sucked us into its world all over again the way only "Gilmore Girls" can.
Sookie left and we struggled with Lorelai as she adjusted to managing the kitchen at the Dragonfly without her.
As Lorelei struggled to move on, Michele insisted upon it, urging her to expand the Dragonfly (a suggestion Emily made in season 7 of the show's original run).
This friction between resisting change and accepting it was paralleled by Emily's grief over Richard's passing.
Some days she barely got out of bed and some days she tried all sorts of ridiculous things to help her move on, all the while against the backdrop of a house full of immigrant servants who continuously supported her, a very different portrayal from the ruthless employer she was during the show's original series.
Yet another reminder that life has a very funny way of working things out.
#TeamJess Forever
On the topic of life having a funny way of working things out, can we please take a moment to appreciate the incredible character Jess grew into?
In the months preceding the release of the revival there was intense debate over which of Rory's boyfriends she should end up with -- team Dean, Jess or Logan?
Matt Czuchry, who plays the character of Logan, put it best when he said each guy in Rory's life was exactly what she needed at that time. But surprisingly, it was Jess who demonstrated the most growth.
He grew from the punk nephew of Luke who wrecked Rory's car into Rory's voice of reason.
Where everyone feared he would be a bad influence in her life, he became a selfless, insightful, tragic hero who inspires Rory's best decisions, reminding us that life is funny and people do grow up.
The Last Four Words
Down to the famed last four words, the "Gilmore Girls" revival was a lesson in how surprising and uncontrollable life can be.
Fans may have expected some inspirational, deep line with a sense of finality which we could post to Instagram. Instead, we got news that life is often inconvenient.
It was a reminder that we must boldly take charge of the little we can control.
We must be open and flexible to what life presents, and find ways to make certain we find joy, fulfillment and honor in our decisions.
As a generation, this revival told us to give meaning to our futures instead of giving ourselves unrealistic goals and expectations.
The "30-something gang" in the show was a brilliant satire of the way our generation has been chewed up and spit out by the unexpected realities of life. But let's keep it moving, shall we?
Despite the heartache and destruction we may leave behind, we must move forward. Time stands still for no one. Not even for "Gilmore Girls."