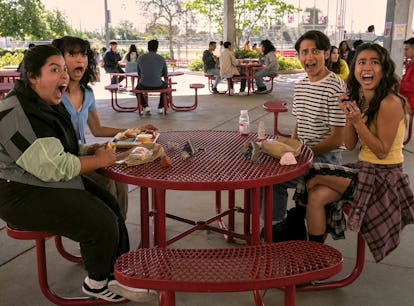 So Like, Freeridge Needs To Get A Season 2, Right?
Kevin Estrada © 2022
Before the end of Netflix's beloved series On My Block, Netflix had already announced a spinoff, Freeridge, would be coming, with new characters and stories to tell about this corner of Los Angeles. With the nods to the original series as well as the arrival of new supernatural elements in the new show, viewers are already clamoring for Freeridge Season 2. Considering Season 1's cliffhanger, no one can blame them.
Warning: Spoilers for Freeridge Season 1 follow. Despite being set in the same corner of the Los Angeles suburban jungle, the On My Block spinoff series Freeridge features different characters. (There are a few secondary characters from the OG series who turn up, and the new characters had a brief phone call with Jamal to figure out his relationship with Marisol, the deceased sister of their mysterious new antagonist Mariluna, but he did not appear onscreen.) The new "Core Four" consists of Gloria, her BBFs, Demi and Cam, and her younger sister, Ines. The foursome accidentally comes into possession of a box in the opening episode, and when Mariluna threatens them, demanding its return, they soon start to believe they are cursed for refusing her request.
Eventually, the group made friends with Mariluna and even went to her house for Thanksgiving, but nothing went right. The potatoes were stolen by an enchanted bowl that haunted Demi, and the turkey was inedible. Gloria discovered her boyfriend Rusty only started flirting with her because her uncle paid him to do so. Despite Rusty's protests that he had feelings for her now, his kiss with Ines suggested a love triangle is in the making. Demi and Cam, who spent the entire series getting together, broke up; meanwhile, Gloria and Ines' father's cancer worsened.
And then, just after Mariluna promised to cut a check for a million dollars to Gloria and her friends, answering their prayers to get their father into specialized cancer treatment, it appeared she was murdered by Sad Eyes and Joker, who happened to see her outside her house and mistook her for Marisol.
Sure sounds like this group is cursed, and a potenital Season 2 better have answers for them.
Freeridge Season 2 Renewal Updates
With the series only just out, Netflix has not revealed whether there will be a Season 2. Hopefully, fans can expect to hear about Freeridge Season 2 by the beginning of March 2023.
Freeridge Season 2 Probable Cast
If Freeridge gets another season, the "Core Four" will most likely return. That includes Keyla Monterroso Mejia as Gloria, Bryana Salaz as Ines, Ciara Riley Wilson as Demi, and Tenzing Norgay Trainor as Cameron. Michael Solomon will probably return as Rusty, and Zaire Adams as Cam's ex-boyfriend, Andre. Gloria and Ines' dad and uncle, played by Jean-Paul San Pedro and J.R. Villarreal, respectively, will also likely be back.
Also probably coming back for a second season: On My Block returnees Paula Garcés and Eric Gutierrez as Geny and Ruben Martinez, and Eme Ikowuakor and Raushanah Simmons as Dwyane and Fran Turner. Peggy Blow, who played Marisol Martinez and now Mariluna, will also probably find a way to turn up. As for Sad Eyes (Steve Louis Villegas) and Joker (Joshua Armando Ticas), let's hope not.
Freeridge Season 2 Possible Plot
With so many cliffhangers at the end of Season 1, Season 2 has many places to go — Gloria, Ines, and Rusty's love triangle, for one. Cam and Demi breaking up and Andre finding his way back to single again means their relationship weirdness is back on the table. (Also, more Andre podcast episodes, please!)
And then, of course, there's Mariluna's presumed murder to avenge, the desperate need for money to help Javier's cancer, and let's not leave out that whole "one sister will be the downfall of the other" premonition stuff that still hasn't been resolved. In short, Season 2 has a tall order to fill if /when it gets here.
Freeridge Season 2 Trailer & Release Date Predictions
Without a renewal, it's tough to say when Season 2 would arrive. However, for the most part, On My Block seasons showed up every spring like clockwork, coming a year after they were confirmed (give or take a week). If Freeridge follows the same model, fans could be looking at Season 2 turning up in early 2024.