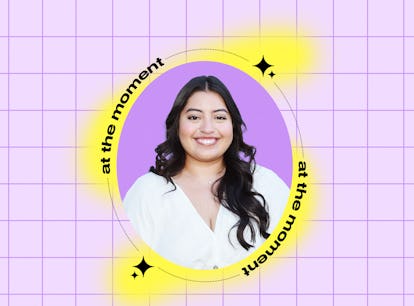 Keyla Monterroso Mejia On Her Rapid (& TBH, Sweaty) Rise To Fame
How the Freeridge star is handling her jump from comedic relief to leading lady.
Elite Daily; Getty Images
In Elite Daily's series At The Moment, celebs dish on their current projects, pop culture hot takes, and everything taking over their group chats. Below, Freeridge star Keyla Monterroso Mejia gets candid about working with Larry David and Quinta Brunson, her On My Block fandom, and a secret social media habit.
Keyla Monterroso Mejia is one of the funniest people on TV right now. Which is ironic, because she never planned to go into comedy. "I always wanted to be an actress, but I wanted to be a well-rounded actress with different sides to me and do complex characters," Monterroso Mejia tells me. "But I was fortunate enough to find these shows that I was like, 'Oh, this is comedy,' and I loved it more than I ever thought I would."
Monterroso Mejia robot-danced into the spotlight on Season 11 of Larry David's Curb Your Enthusiasm, playing Maria Sofia Estrada, a riotously terrible aspiring actor who causes Larry all kinds of problems. Despite her character being confident to a fault (and Monterroso Mejia receiving instant acclaim for her performance), the relative newbie had to fight serious impostor syndrome while filming her scenes.
"There was not one day that I did not want to throw up," she says. "They were just some of the most wonderful people I've ever had the pleasure of working with, but I'm a very nervous person and I get hot. I had times where a director has yelled cut because [I was] sweating so much, [or] because my heart was racing and they could hear it because it was by the mic. They're like, 'You need to relax.' And I'm like, 'That's Larry David. What do you mean, relax?'"
Her nerves struck again with her next high-profile gig, a recurring guest star spot on ABC's breakout sitcom, Abbott Elementary. "[After Curb] I was like, I'm done being nervous," she says. "Then I'm fortunate enough to go on Abbott and it's all over again — 'Oh my God, no, I'm with the new icons.'"
The thing is, these surreal moments aren't ending anytime soon. Up next, Monterroso Mejia is headlining the fresh-faced cast of Freeridge, a continuation of Netflix's beloved coming-of-age comedy On My Block, which ended in 2021. As a major OMB fangirl, Monterroso Mejia is feeling the pressure ahead of the spinoff's Feb. 2 release. "I'm nervous. [On My Block] means so much to me. It made me laugh, it made me cry, and it gave me confidence at a time when I really needed it," she says. "[If I weren't part of Freeridge], I would be looking at the new people sideways, too."
She plays Gloria, the driven and hardheaded ringleader of the new Core Four. It's very much still a funny role, but it also brings a ton of the heart and teen angst that made On My Block so popular. "I'm really excited for people to be able to see a different side of me as an actress," she says.
Despite playing a character almost a decade her junior, Monterroso Mejia felt right at home as Gloria. "I really still feel so young. I feel like I'm 12 and my family treats me like I'm 12," she says. "I live with my mom. Oh my God, this so personal — I haven't even been to a club!"
So, how does she plan to celebrate Freeridge's premiere if not popping bottles with table service? "Both my parents are immigrants, and my dad does not understand the concept of a spinoff — it's a little hard to explain in Spanish — so I'm celebrating, just by, like, going to dinner," she says. "I'm low-key. I get nervous with a lot of attention on me, as Keyla. My characters are different, but I get so nervous. A nice quiet dinner is good with me."
Perhaps if Freeridge gets a second season she'll finally hit the club. But for now, Monterroso Mejia is more than content with how things are going.
This section has been edited and condensed for clarity.
Who is your dream co-star?
Oh my God. Girl, I'm blanking. Oh, Stellan Skarsgård!
Most-used app on your phone?
Probably my maps. I don't know directions.
What's one thing that's on your to-do list today?
I have a mess behind me. Thank God you can't see it. I have to sort out my clothes. It's so messy.
What would you be doing if you were not acting?
I'd be a barber. All my family, they're all barbers, so I would be cutting hair, girl.
Least favorite subject when you were a student?
Oh my God, math. I don't even know times tables. I shouldn't say that.
Go-to comfort show to watch?
There's this Korean variety show called Running Man, and it brings me so much laughter and joy.
Instagram or TikTok?
Girl, I have a burner account on TikTok. I'm not "on" TikTok, but I'm on there. I am searching through it. I'm clicking. I'm obsessed.
Celebrity crush?
I just watched Ted Lasso the other day, so Jason Sudeikis. Love him.
Favorite karaoke song?
[Sings] And IIIIII... ["I Will Always Love You" by Whitney Houston]
A movie that you haven't seen yet that you're excited to see?
Broker.
Who's the last person you texted?
My little brother.
Biggest career goal?
Girl, I was able to be on Curb — I can't get too greedy. You know what? I would love to do a little cameo in Reservation Dogs. I freaking love that show.
Weirdest habit?
I tend to take slippers. I'll get up from my bed and then I won't have shoes on and I'll just wander around. Whether it's with my mom or whatever — without noticing, I put on their slippers and I take them. And then everybody's like, "Where are my shoes?" I'm so sorry.
I think I know the answer to this one, but: going out or staying in?
Staying in. Staying in forever.