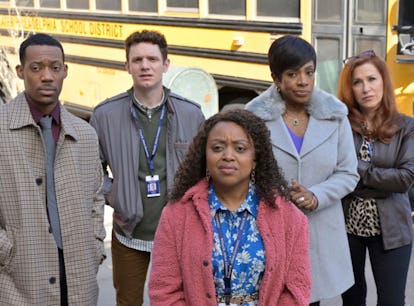 10 Feel-Good Shows To Watch While You Wait For More Abbott Elementary
ABC
Abbott Elementary does something special that not many TV shows can do: It makes hanging out at school seem fun. The hit ABC comedy, created by and starring Quinta Brunson, is a mockumentary following the lives of a group of elementary school teachers in Philadelphia. It doesn't necessarily sound like the makings of the biggest sitcom of the TV season, but Abbott Elementary garnered millions of fans during its first season. Now that Season 1 of the series is over, those fans are looking for more feel-good shows to watch while waiting for Abbott Elementary Season 2's premiere.
When Brunson set out to make Abbott Elementary, she wanted to create a heartwarming show. "The job first and foremost was to make a comedy, make a funny show," she told PBS. "And then I just like my comedies to have heart in them. Those are my two goals: heart and humor."
Infusing the show with heart and humor seems to have worked, and now there are plenty of fans out there who are looking for more shows like it. Whether you want another workplace comedy or a TV show with optimistic characters just like Brunson's Janine, this list will keep a smile on your face during the long wait for more episodes of Abbott Elementary.
Season 1 of Abbott Elementary is streaming on Hulu.