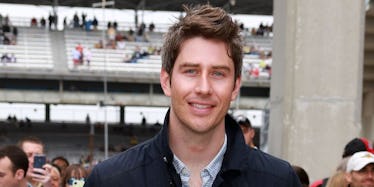 The First Promo For 'The Bachelor' Has Arrived, So We Better Start Getting Used to Arie
Robin Marchant / Getty Contributor
Arie Luyendyk Jr. is going to be the next Bachelor whether you like it or not, people. The race car driver will be speeding into our lives soon, and before you know it he'll be awkwardly hugging strangers as they try to leave a lasting impression on him after one minute so he can hopefully propose to them soon. Man, reality TV is weird. Anyway, ABC just announced that the former Bachelorette contestant would be the supposed leading man of our dreams last week, and just mere days after the reveal they're already releasing The Bachelor 2018 promo that introduces Arie to the world. The question is, Bachelor Nation: Will you accept his rose?!
If you're not familiar with Arie, he was the runner-up on Emily Maynard's season. Five years ago. Yes, it sounds like a long time to exist without exposure on the franchise, but he was a fan favorite back then, so why not? Arie's a race car driver-turned-realtor, but it looks like his real estate career will probably be played down in comparison to that whole Indy 500 thing he's got goin' on. "Hearts will race. Rev up your engines because Arie's your new Bachelor," the promo tells us. OK, then.
To be honest, we're warming up to the idea of a fresh-ish face giving out roses. Arie is in his mid-thirties, so maybe he's truly ready to settle down, and that's a plus. He's also done it before so he knows the ropes a bit, but he hasn't been drenched in the spotlight lately or caught up in the inevitable heightened social media frenzy that comes with being on these shows in the last few years. Hey, Instagram was a relatively new platform when he making headlines on Emily's season. When he spoke on GMA for the big announcement, he admitted, "I'll be 36 in a few weeks, so for me, it's time ... I feel like I'm the last one of my friends to really take that step," so it appears that he's at the right place in his life to take this seriously.
Arie was a surprise choice for the big gig, as he wasn't exactly talked about in all the pre-announcement Bachelor buzz as much as some other names. Peter Kraus, the runner-up from the most recent Bachelorette season, seemed to an obvious choice. And even though the Wisconsin trainer wasn't able to make a long-term commitment to Rachel via a proposal (she ended up choosing Bryan Abasolo and they got engaged), he still had a special place in the hearts of many viewers. Producer Mike Fleiss teased the future of the franchise by initially hinting that Peter was a no-go, but there was still hope as rumors swirled that a Peter announcement wasn't far off. When that day didn't come and Arie was announced, Bachelor Nation was totally thrown for a loop.
In a parallel universe without the burdens of fear and uncertainty, maybe Peter could have been the next Bachelor. His recent Instagram confession following the Arie reveal sure leads us to believe he turned down the job. Peter hints: "ABC, you saw something in me, but something held me back." Hmm. There's always next year, kid.
It is time we abandon our hopes and dreams for Peter, Wells, Luke Pell, or even Dean. OK, probs not Dean. We must welcome Arie into our apparently racing hearts and get pumped for that fateful January premiere. Arie told Michael Strahan that his ideal woman would be "independent, strong, but then still gentle" so we're intrigued to find out who will win him over. If you recall, he was also known as "the kissing bandit" so we're assuming there will be lot of steamy makeout sesh moments in store. Arie, let's see what you can do. Bachelor Nation is waiting.