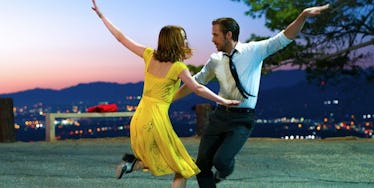 Here's Why Your Favorite Movie Got Snubbed At The Oscars
Lionsgate
If you're wondering why your favorite movie got snubbed at this year's Oscars, there is a good chance there is a mathematical — and semi-conspiratorial — reason.
That is, unless your fav movie from 2016 was "A Dog's Purpose."
There is no way in hell "Hotel For Dogs 2: Just One Dog" was going to walk away with any Academy Award gold last night. Come on.
Let's talk about Oscar snubs.
The first hurdle you have to cross when trying to get your film Oscar attention is making your way into the social circle of the Oscar committee, a secret society of over 6,000 Hollywood big-wigs who vote on categories they specialize in.
While the votes are supposed to be impartial, that is a fairly large ask.
Hollywood is an incestuous town, and the overwhelming majority of committee members know each other -- at least in their own category.
They tend to vote for projects they're connected to, have friends attached to, owe a favor to or whatever other reason they need to justify voting for "Hacksaw Ridge."
Even if you play the popularity game, you still have to deal with studios producing Oscar bait, aka movies made just for Oscar trophies.
A study done by UCLA showed movies that involved keywords like "political intrigue," "war crimes" or "disabilities" automatically had a better shot at taking home an Oscar when compared to movies with keywords like "zombies," "breast implants" or "black independent films."
OH, YEAH. DIVERSITY IS A MAJOR PROBLEM IN HOLLYWOOD. *Eitan is handed a trophy for Hottest Take of All Time.*
According to a study done by the LA Times in 2013, an insane 93 percent of committee voters were white, while 76 percent were men.
So, let's say you're a white dude who made a political intrigue movie with zero zombies and near non-existent boobs. Do you get an Oscar now?
NOPE! Even after all of that, you still have to deal with shady Hollywood crap.
Sketchy studios have been known to bribe voters through free trips and parties while more legit studios straight-up outspend their competitors in the weeks leading up to the Oscars.
This happened in 1999 when Miramax spent $16 million on an ad campaign to ensure "Shakespeare in Love" would get Oscar buzz over "Saving Private Ryan" to ensure a win.
Years later, The Weinstein Company -- that was actually founded by the Weinstein brothers who were behind Miramax -- pulled that same crap when it spent $15 million on the pre-Oscar campaign for "The King's Speech."
The entire budget for "Driving Miss Daisy" was $7.5 million.
TL;DR: Nothing matters.