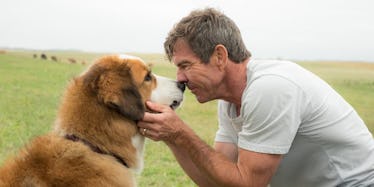 'A Dog's Purpose' Cancels Premiere After That Heart-Wrenching Dog Abuse Video
Universal Pictures
The movie "A Dog's Purpose" has called off its film premiere this weekend after coming under fire for animal abuse.
On Tuesday, TMZ published a video of a trainer seemingly forcing an unwilling dog into rough waters on a set, prompting PETA to call for a boycott of the film.
Universal Pictures and Amblin Entertainment released a statement explaining the decision to cancel the premiere and press junkets in light of the controversy.
The statement read,
Because Amblin's review into the edited video released yesterday is still ongoing, distributor Universal Pictures has decided it is in the best interest of 'A Dog's Purpose' to cancel this weekend's premiere and press junket. Amblin and Universal do not want anything to overshadow this film that celebrates the relationship between animals and humans.
The statement went on to say while Amblin was "disheartened by the appearance of an animal in distress," the dog was not harmed throughout the making of the film.
The film itself has not been canceled and will hit theaters nationally next Friday, January 27.
The dog in question, a German Shepherd named Hercules, is clearly afraid in the video. He claws at the edge of the wall while the trainer pushes him in.
On Wednesday, both director Lasse Hallstrom and voice actor Josh Gad took to Twitter to express their concern over the video. Neither of them were on set for the shoot.
So basically, a movie entirely geared toward dog lovers committed a sin greater than any other in their eyes: slight animal abuse.
Seriously. PETA people will overlook anything, right up until an animal is even sort of unhappy.
Here's how I imagine a PETA member's mind works:
Oh, Woody Allen raped his daughter? Well, that's not good, but we shouldn't let it affect his status as a great filmmaker. Casey Affleck sexually harassed every woman filmmaker he's ever worked with? But 'Manchester by the Sea' was such a beautiful depiction of grief! A dog got wet when he didn't want to? SHUT THAT SHIT DOWN IMMEDIATELY!
So yeah, "A Dog's Purpose" is pretty much screwed. They should have just stuck with being racist and sexist.
Citations: Big Win For PETA! A Dog's Purpose Cancels Premiere & Press Junket Amid Call For Boycott! (Perez Hilton)