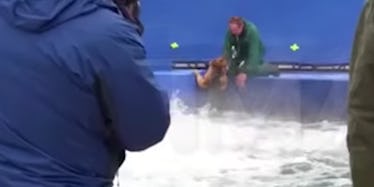 Trainer Shoves Terrified Movie Star Dog Into Rushing Water In Upsetting Video
TMZ
Shocking footage shows a terrified dog being forced into rushing water on the set of a movie called "A Dog's Purpose."
Set to be released later this month, "A Dog's Purpose" is a family-friendly movie -- but the clip of a trainer pushing a German Shepherd into a pool is anything but.
The dog desperately scrambles for safety in the clip, obtained by TMZ, while a man filming the incident laughs.
The animal, named Hercules, appears to sink below the surface, and handlers immediately race into the pool to rescue the dog.
The video has prompted PETA to call for a boycott of the film, while its star Josh Gad -- who, as a voice actor, was never on set -- said he was "shaken and sad."
Filmed outside Winnipeg, Canada, in November 2015, production of the scene involved eight outboard motors churning the water to resemble a river, TMZ reported.
Hercules, one of at least five dogs featured in filming, is shown next to a trainer dressed in green, but appears terrified of getting into the water, clawing himself out once before being forced in.
In a statement, PETA senior Vice President Lisa Lange told USA Today dog lovers should "boycott the film in order to send the message that dogs and other animals should be treated humanely, not as movie props."
Meanwhile, Gad took to Twitter to express his sadness at the video.
Director Lasse Hallström insisted he wasn't present at the time of the incident.
A statement from the American Humane Association, which monitors movie sets, said,
American Humane has reviewed the video and we are disturbed and concerned by the footage. When the dog showed signs of resistance to jumping in the water, the scene should have been stopped. We are placing the safety representative who was on the set on administrative leave immediately and are bringing in an independent third party to conduct an investigation into this matter.
Production company Amblin Entertainment told TMZ,
Fostering a safe environment and ensuring the ethical treatment of our animal actors was of the utmost importance to those involved in making this film and we will look into the circumstances surrounding this video.
It's likely the box office of this dog-centric film will be affected by this shocking video.
Citations: 'A DOG'S PURPOSE' TERRIFIED GERMAN SHEPHERD FORCED INTO TURBULENT WATER (TMZ), PETA calls for boycott of 'A Dog's Purpose' after disturbing video surfaces (USA Today)