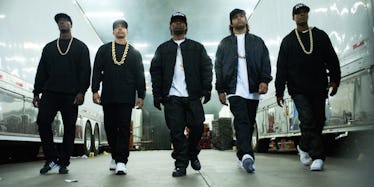 #OscarsSoWhite Proves America Just Doesn't Understand Hip-Hop
Universal Pictures
The 2016 Oscar nominees were announced on Thursday, and once again, they're overwhelmingly white.
Almost as soon as the news broke, people began tweeting about the homogeneity of the nominees, with the hashtag #OscarsSoWhite.
But is anyone surprised about the lack of diversity among the #OscarNoms for the umpteenth time? What will it take to change #OscarsSoWhite? — HuffPost BlackVoices (@blackvoices) January 14, 2016
#OscarsSoWhite that Rocky got nominated in a movie about Apollo Creed's son. — Hari Kondabolu (@harikondabolu) January 14, 2016
Hi, Creed was better than everything else nominated. Ok thanks, bye. #OscarsSoWhite — Anil Dash (@anildash) January 14, 2016
Second year in a row without a single non-white actor nominated. #OscarsSoWhite — Jeff Chu (@jeffchu) January 14, 2016
Indeed, the Academy once again revealed its penchant for rejecting diversity.
It's no coincidence the Oscar voters are about 94 percent white, 77 percent men and an average of 62 years old.
In many ways, we shouldn't even be surprised. This is pretty standard.
Old white men have always dominated most aspects of American society.
But that doesn't mean people's frustrations aren't justified.
There were a number of powerful films with non-white actors this year that definitely deserved recognition: "Creed," "Beasts of No Nation," "Chi-Raq" and "Straight Outta Compton," to name a few.
The lack of diversity among this year's Oscar nominees is yet another reminder white privilege is pervasive in America. We obviously have a long way to go in terms of a truly inclusive and equal society.
It seems particularly egregious "Straight Outta Compton" was excluded from the field of Best Picture nominations. The film was a massive success and touched on many important themes still relevant today like police brutality, racism and music as a form of protest.
"Straight Outta Compton" was also a powerful tribute to the evolution of one of the most important and influential musical genres of our era: hip-hop.
As Peter Travers of Rolling Stone put it,
'Straight Outta Compton' is epic, baby, an explosively entertaining hip-hop biopic that raps home truths about race and police brutality as timely now (think Ferguson) as they were during the 1980s in Compton, California. [The film is] an electrifying piece of hip-hop history that speaks urgently to right now.
The acting in "Straight Outta Compton" was impeccable, particularly from O'Shea Jackson Jr., who played Ice Cube -- his father in real life (the resemblance is uncanny).
But in spite of the quality and power of its message, the only real recognition this film got from the Academy was for Best Original Screenplay (both of the screenwriters are white).
This is emblematic of America's overwhelming lack of understanding and approval of hip-hop.
When N.W.A. first came on the scene, many viewed the group as a menace to society. This was a prominent theme in "Straight Outta Compton."
People weren't used to the idea of young black men openly airing their grievances about police brutality and America's rampant racism.
But that's precisely what made N.W.A.'s music so important. They were sending a message the country needed to hear, regardless of how uncomfortable it made people.
And N.W.A., among other pioneers in hip-hop, helped inspire future generations of artists who'd continue their work.
Today, rapper Kendrick Lamar is perhaps the most profound and prominent example of their impact. He's from Compton, he's exceptionally talented and his music touches on many of the most important issues we face as a society.
While Lamar received the most nominations for this year's Grammy Awards, many are still critical of his music and message, in much the same way people challenged N.W.A.
Lamar's most recent album, To Pimp a Butterfly, offers powerful reflections on race and what it means to be a young minority in America.
The album's themes are deeply connected to those brought to light by the Black Lives Matter (BLM) movement, which is precisely why BLM activists have chanted his song "Alright" at various protests.
Like N.W.A.'s music, Lamar's songs have become the rallying cry of a generation fed up with police violence and the disproportionate impact of the criminal justice system on minorities in the US.
But not everyone appreciates the message of his music.
When Lamar performed "Alright" on top of a police car at the 2015 BET Awards, for example, Geraldo Rivera appeared on Fox News and argued,
This is why I say that hip-hop has done more damage to young African Americans than racism in recent years. This is exactly the wrong message.
Rivera was especially unsettled by one lyric, "And we hate po-po/ Wanna kill us dead in the street, fo sho," and contended this kind of music only incites more crime and animosity toward police.
Lamar offered a powerful response to Rivera's statements. He said,
How can you take a song that's about hope and turn it into hatred? The message, the overall message [of 'Alright'], is, 'We gon' be alright.' It's not the message of, 'I wanna kill people.' The problem isn't me standing on the cop car. I think his attempt is diluting the real problem, which is the senseless acts of killings of these young boys out here. I think for the most part, it's avoiding the truth. It's reality, this is my world, this is what I talk about in my music, and you can't dilute that. Me being on a cop car, that's a performance piece after these senseless acts... Hip-hop is not the problem. Our reality is the problem... This is our music, this is us expressing ourselves. Rather than going out here and doing murder myself, I want to express myself in a positive light, the same way other artists are.
It seems people misunderstood "Straight Outta Compton" in the same way, and it's representative of how many people view hip-hop.
When the movie first came out, CNN even aired a segment in which it expressed shock there wasn't violence at movie theaters during the film's opening weekend. CNN Law Enforcement Analyst Cedric Alexander, who is also a former police officer, appeared on air to discuss the film and said,
There are some police organizations that are calling on people — members and maybe even beyond their members — not to see this movie because of the message they think it sends. We really have to get away from this whole 'f the police' to 'support the police.'
People can't seem to shake the misperception hip-hop condones violence, particularly against police.
So let's set the record straight...
No, hip-hop is not a celebration of crime, drugs and violence, but in its truest form, is a reflection of the unsettling realities in America's inner cities.
As rapper Killer Mike once aptly stated,
Trust us on this: The kids spending hours per day writing rap songs aren't a threat to society; they are often trying to escape the threats from society.
It's 2016.
It's time for people to dispel misperceived notions of hip-hop.
It's time for non-white artists and actors to get the recognition they deserve.
It's time for this country to acknowledge the racial inequities that persist to this day and work toward correcting them.