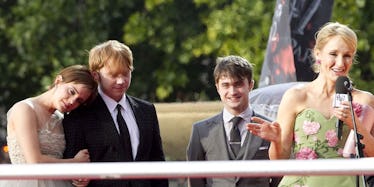 Here's How Our Lives Have Changed Since The Last 'Harry Potter' Premiere
REX/Shutterstock
Hey "Harry Potter" fans, it's been a while since we've been here.
By that I mean it's been a while since we've been here, on the day a new "Harry Potter" film was released to the world.
Tonight is the opening night of "Fantastic Beasts and Where to Find Them," JK Rowling's prequel spinoff to "Harry Potter."
It's been a while since we've put on our collared shirts with out red, green, yellow and blue ties and dusted off our old wands.
It's been a while since we've plopped ourselves down on the disgusting carpet of our local theater and waited for the poor guy who had to work that night to come tell us it was OK to come in.
It's been a while since we've seen the Warner Bros. logo fly toward us on the big screen, and heard the John Williams score that feels like home.
It's been a while since we've all sat together in equal parts excitement and dread, not knowing what David Yates would do to our beloved series.
And yet, here we are again — five years and four months after "Harry Potter and the Deathly Hallows: Part 2" came out.
No, it's not exactly the same as it was...
We knew we loved "Harry Potter," and we do not yet know if we will love "Fantastic Beasts and Where to Find Them."
(In a way, that's even more exciting. This is new "Potter" material from JK Rowling, you guys! And it's not Pottermore!)
I don't know about you, but I've changed a lot since we were last here in 2011. And the world's changed a lot, too.
So in honor of being here again today – the day of the midnight premiere of "Fantastic Beasts and Where to Find Them" — let's take a look back on how far we've come since then, both "Harry Potter" wise and otherwise.
1. We bought four non-"Harry Potter" JK Rowling books.
"The Casual Vacancy" came out in 2012, which we all bought but never finished. Then, in 2013, it came out that the murder mystery "The Cuckoo's Calling" by Robert Galbraith was actually written by JK Rowling.
I admit I haven't read that book either, but she's since published two sequels as Robert, and people seem into it.
 2. We finally discovered Adele in America.
Adele's iconic second album, 21, had just come out in January 2011, so if you're an American like me, you spent the year playing "Rolling in the Deep" on repeat and saying, "Oh my God, Adele is AMAZING."
Meanwhile in the UK, British people were saying, "Yeah, we know."
3. We suffered through JK Rowling low-key retconning Ron and Hermione's relationship.
In an interview in 2014, Rowling said she thought the Ron and Hermione pairing was a mistake and wished she'd had Harry and Hermione get together instead.
... Still trying to forget about this one.
4. We re-elected President Barack Obama in the US.
Happier times.
5. We watched Emma Watson play a bad girl.
"The Bling Ring" came out in 2013 starring Emma Watson, and it gave everyone this classic Hermione reaction GIF.
The world was pretty shocked to see Hermione like this (and to hear Emma Watson's interpretation of a Kardashian accent), but now we've all gotten over it (I hope).
Plus, now Emma's back to her good girl roots, considering she's now Belle in "Beauty and the Beast."
6. We begrudgingly accepted Jonah Hill as a serious actor.
I guess.
7. We lost Alan Rickman.
A great actor, and the perfect Snape, he died at the age of 69 on January 14, 2016. RIP.
8. We heard Kim Kardashian got married.
Kim K married Kris Humphries, actual giant, in August 2011 while "Deathly Hallows Part 2" was still in theaters...
9. We heard Kim Kardashian got divorced.
... and then they got divorced 72 days later.
10. We heard Kim Kardashian got married again.
This time to Kanye West. It's hard to remember a time before Kimye was official, but that wedding was in May 2014! Now they have two kids.
There's obviously been a ton of Kardashian drama since, but I'll spare you guys any more details.
11. We finally got a black Hermione.
Look, "Cursed Child" may have been a disaster, but you can't deny Noma Dumezweni as Hermione is going down in the "Harry Potter" history books.
12. We watched a brand new "Star Wars" film in theaters.
I still can't believe we got to see Han Solo and Leia on screen in 2015.
13. We never stopped loving "Harry Potter."
Seriously, look around your theater tonight at "Fantastic Beasts." Harry Potter fans will always be this nerdy and enthusiastic until the end of time.
We'll keeping dressing up and waiting in line for this wonderful series we love, no matter how old we get. That's pretty beautiful.