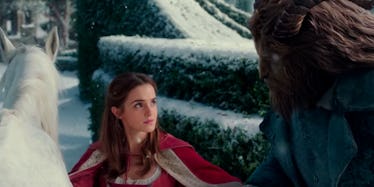 The First 'Beauty And The Beast' Trailer Is Here And It Was Worth The Wait
Disney
IT'S HEREEEEEEEEEEEEEEEE.
After months of waiting, the first official "Beauty and the Beast" trailer has arrived.
Disney has been teasing us with images and clips of Emma Watson as Belle, but we've barely seen her play the part. LIKE COME ON, DISNEY. GIVE US SOMETHING GOOD.
I CAN BARELY SEE EMMA IN THIS SHIT, SHOW US FOOTAGE OF HER ROCKIN' THE ROLE. I WANNA HEAR HER TALK!
Sorry, sorry. I just love this movie, OK? And I'm getting a little impatient.
If you're as eager as I am to watch the film, then today's your lucky day. Below, you can check out the full trailer for "Beauty and the Beast" and have your world rocked upside down.
I'M SERIOUS, it's so good. Emma Watson is perfect as Belle, and Dan Stevens kills it as the Beast. They're weirdly a cute couple, even though the Beast is like... hairy... and has two horns... and is half animal.
Yolo??? Get itttttt, girl. He's still cuter than the boys who hit on me at bars. Hahaha, oh.
All right, you've probably heard enough of me talking. It's time to be our guest and watch this shit. Sit back, relax and enjoy the show.
DO YOU HAVE CHILLS OR WHAT? "Beauty and the Beast" hits theaters March 2017, so there are only a few months left until we can watch it on the big screen.
If you're thirsty for more, you can also listen to Emma Watson and Dan Stevens exchange lines during a table reading.
It's only like two seconds, but Dan Stevens' voice is hot.
You can also see some of the concept art made to help create the characters like Lumière and Cogsworth. The trailer made it clear the movie's animations are gonna be sick.
Cool, well, I guess I'll just stare at pics of Emma Watson's face and listen to "Be Our Guest" on repeat until March.
Pressing... play... now.
Citations: 'Beauty And The Beast' Trailer (Elle)