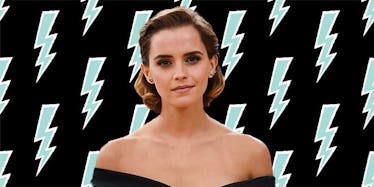 The Two Hermiones Finally Met And Emma Watson Got Super Emotional
REX/Shutterstock
It's been a rough week for humanity, so please look at this photo of Noma Dumezweni clutching Emma Watson's face and remember there is magic in the world.
If you'll recall, Noma Dumezweni plays the grown-up version of Hermione Granger in JK Rowling's theatrical production of "Harry Potter and the Cursed Child," on London's West End.
And, as you all know, Emma Watson also played Hermione Granger for basically her entire childhood in the "Harry Potter" films.
Well, it looks like Emma got a ticket to the play because last night she was backstage with the cast and got the most adorable pictures ever.
NOW THE TWO HERMIONES HAVE MET AND EVERYTHING IS BEAUTIFUL!
3. Blessings Dear @EmWatson and Thank You! xxx pic.twitter.com/SIAqUxLBtm — MissNoma (@MissDumezweni) July 7, 2016
Look at this photo. There is so much love and so much Hermione in this photo. This photo has healed me.
I'M GONNA CRY! THE MAGIC OF "HARRY POTTER" LIVES ON IN A NEW FORM! IT'S SO LOVELY!
The original cast meeting the new cast of #CursedChild (@HPPlayLDN ) pic.twitter.com/ANJPNqGtti — Cursed Child (@HPPlayHelp) July 8, 2016
I am not the only one crying, either.
In a Facebook post later that night, Emma said she loved the play, and thought it was "possibly even more beautiful than the films."
And, of course, she loved Noma and said she gave her all the Hermione feels.
Emma wrote,
Meeting Noma and seeing her on stage was like meeting my older self and have her tell me everything was going to be alright, which as you can imagine was immensely comforting (and emotional)!
In conclusion, everything was beautiful and nothing hurt.
Back in January, Emma tweeted out her support for Noma when the actress was dealing with racist fans who didn't want to see a black Hermione.
Can't wait to see Noma Dumezweni as Hermione on stage this year. #harrypotterandthecursedchild #2016 — Emma Watson (@EmWatson) January 2, 2016
So I don't want to hear any of you racist haters ruining this moment. Just enjoy the Hermione love, hate-free.
Citations: Emma Watson Finally Saw 'Harry Potter and the Cursed Child' and She Has Some *Feelings* About It (Cosmopolitan)