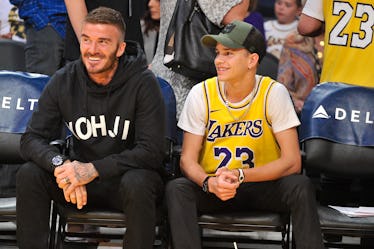 These 12 Celeb Kids Are So Fun To Follow On TikTok
Sometimes their famous parents make a cameo.
Allen Berezovsky/Getty Images Entertainment/Getty Images
It's official: the TikTok takeover is definitely here to stay. While internet sensations like the D'Amelio sisters, Noah Beck, and Bella Poarch have legit built their careers off of entertaining people through videos on the app, it's not just members of The Hype House who are getting all the attention anymore. Of the famous kid TikTokers that come to mind, there's a specific subset of accounts belonging to the sons and daughters of celebrities that are just so entertaining to watch.
One of the best parts of these TikTok accounts are that famous parents like Kourtney Kardashian, Daniel Dae Kim, and Victoria Beckham often make cameos in their kids' videos. Some parents, like Alex Rodriguez, have not quite mastered the short video platform, but their epic fails are just as entertaining as spot-on choreography. It's the realness of these short dance clips that make TikTok so fun to watch.
Some celebs encourage their kids to express their personality and creativity on TikTok for all to see, while others, like Kim Kardashian, have been outspoken about the fact that the platform may be fun, but not yet safe enough for their children to have public accounts. While Kim admitted her oldest daughter, North, is an avid TikTok user, she's not allowed to actually post to her account.
If you're looking to brighten your day, here are 12 celeb kids to keep an eye out for and follow ASAP.
This article was originally published on