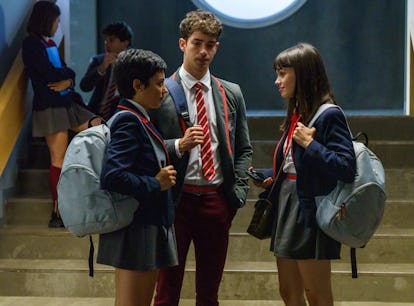 Elite Is Finally Bringing Back An OG Favorite For Its Eighth Season
Netflix
You'd think Las Encinas has seen it all at this point — drug-fueled ragers, messy orgies, about a million different murders. But there's still more drama to come. The most twist-filled teen drama ever is heading into its eighth season, and after cycling through so many different casts of characters, one of the original stars will be making a long-awaited return. Here's everything Elite fans need to know about Season 8.
As has been Netflix's trend with Elite, the streamer picked up Season 8 incredibly early. The renewal was announced on July 19, 2023, months before Season 7 would even start airing. The big reveal also came with some exciting news: Mina el Hammani is set to return as Nadia in Season 8. Nadia was one of the main characters in the first three seasons of the show, but as with almost every original Elite star, she wound up disappearing from the series. She was part of the mass cast exodus at the end of Season 3, moving to New York City on a scholarship to Columbia University with Lucrecia. She made brief cameos in Season 4 to tie up her relationship with her ex Guzmán, which ended pretty immediately due to the pressures of long distance.
It's still up in the air exactly which characters will survive Season 7 to appear in Season 8, but Nadia may not be the only OG Las Encinas student to be making a comeback.
Elite Season 8 Cast
By the time Season 6 rolled around, there was absolutely nobody left who starred in the first season of Elite remaining on the cast. But it sounds like that's changing. Omar Ayuso was confirmed to return as Nadia's brother Omar in Season 7, so he could very well stick around to reunite with his sister in Season 8.
However, the fate of a few other main characters is still up in the air. The Season 6 finale seemed to tease that [spoiler alert] Ari, Patrick, and Mencia would be leaving Madrid for good to cover up their involvement in Ivan's hit and run. The cliffhanger also suggested Isadora and Didac could have been killed. Because the Elite cast is ever-changing, fans will just have to wait for Netflix to confirm who will really be back, and who won't.
Elite Season 8 Release Date
Elite is known for turning around seasons incredibly quickly. With Season 7 dropping on Oct. 20, 2023, fans can probably expect Season 8 to hit Netflix sometime in early to mid-2024.
Elite Season 8 Trailer
There's no footage of Season 8 yet. There will be a better idea of what new drama lies ahead after Season 7 is released.