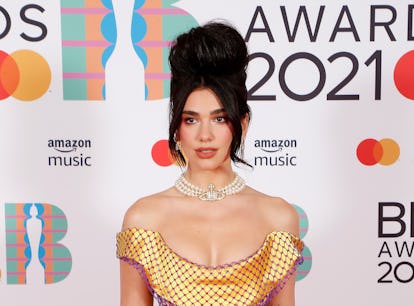 10 Dua Lipa Songs That'll Banish Your Post-Breakup Blues
You'll be levitating in no time.
JMEnternational/Getty Images Entertainment/Getty Images
Everyone needs a good breakup playlist. No matter how your last relationship ended — whether you were the dumper or the dumpee — getting in your feels post-breakup is a right of passage. It's also a necessary part of the healing process. And although Dua Lipa might not be the first artist you think of when it comes to embracing heartbreak (admittedly, her songs are a little upbeat for your typical cry sesh), her lyrics are really something special.
The right music can make all the difference in helping you feel less alone — and taking a careful listen to Dua Lipa's discography could be exactly what you need to start feeling better. You probs already know her more popular breakup songs like "Don't Start Now" and "New Rules," which lean into the angry side of breakups. But if you're ready to move past that initial revenge era, Lipa has plenty of other tunes that cover the full spectrum of breakup emotions.
So, if you are searching for songs that match your current emotional status (no matter what that status may be), chances are that your playlist needs more Dua Lipa ASAP.
"Don't Start Now"
"Don't show up, don't come out / Don't start caring about me now / Walk away, you know how."
If your ex is sending you mixed signals post-breakup, you're going to want to play "Don't Start Now" on repeat. The lyrics are also a great reminder that you deserve better than conflicting messages from someone. PSA: If you're used to someone walking away, they aren't the one for you.
"New Rules"
"I keep pushin' forwards, but he keeps pullin' me backwards."
Struggling to set boundaries with your ex? You need to start listening to "New Rules" on a regular basis. As your relationship with your ex changes, you'll need to start establishing some new rules for the way you interact. Take it from Lipa, "don't pick up the phone," "don't let him in," and "don't be his friend." These rules might be hard to implement, but they'll make moving on so much easier.
"We're Good"
"We gave it all we could / It's time I wave goodbye from the window / Let's end this like we should and say we're good."
Not every relationship ends with a big fight. Sometimes, despite your best efforts, the two of you just grow apart. If that sounds familiar, "We're Good" deserves a place on your Spotify playlist. The song is a healthy reminder that you can miss your ex and still wish them the best. At the end of the day, a breakup doesn't have to be someone's fault for it to hurt.
"Scared To Be Lonely"
"Do we need somebody just to feel like we're alright? / Is the only reason you're holding me tonight / 'Cause we're scared to be lonely?"
Worrying about feeling lonely post-breakup is completely normal, but you shouldn't let it stop you from ending a relationship that isn't working. In "Scared To Be Lonely," Lipa and Martin Garrix touch on what it feels like to stay in that kind of relationship — one where you're too scared to break up and find something better. If you ever were in that position and made the tough call to end things, know that you made the right decision. (And play this song if you ever catch yourself forgetting that.)
"Physical"
"Let's get physical / Lights out, follow the noise / Baby, keep on dancing like you ain't got a choice."
Breakups can suck, but there's a reason people love being single. In "Physical," Lipa sings about some of the best parts of single life — specifically getting ~physical~ with someone new. If you're feeling a little down or need a hype-up for your first single night out, add "Physical" to your queue.
"Break My Heart"
"I should've stayed at home / 'Cause now there ain't no letting you go / Am I falling in love / With the one that could break my heart?"
Full disclosure: This song probably won't offer you much comfort if you're mid-breakup feels. But if you want to delve a little deeper into that heartbreak and wallow for a minute (or 3 minutes and 41 seconds), this song could be a good way to do exactly that. Depression and acceptance are the last two stages of grief, so listening (and crying) to "Break My Heart" could help you recover.
"Love Again"
"​​I used to think that I was made out of stone / I used to spend so many nights on my own / I never knew I had it in me to dance anymore / But goddamn, you got me in love again."
While going through a breakup, it can be hard to remember that things will eventually get better. No matter how impossible it seems right now, the heartbreak will pass, and you'll fall for someone new in time.
"Love Again" focuses on that type of love that can bring you out of your post-breakup fog. So, if you're currently stuck in the "I'm never going to love anyone again" phase of your breakup, give this song a listen to gain some perspective. It may be a cliché, but time really does heal all wounds.
"If It Ain't Me"
"So baby, don't you let go (ah, ah-ah) / The thought of you with someonе kills me / I'll be dancing with my heart brokе / Such a sad disco, if it ain't me."
No matter what role you played in the breakup, it's going to hurt. That said, being the dumpee tends to be a little more heartbreaking, especially if you think they left you for someone else. Nothing will make that pain go away completely, but hearing that other people — even stars like Dua Lipa — have gone through the same thing can make you feel a little less alone.
"Kiss And Make Up"
"And I'm tired of talking / Feel myself saying the same old things / But this love's important / Don't wanna lose, don't wanna lose you this way."
If you and your ex struggled to communicate (and maybe that even led to your breakup), you've probably wished that you could just "Kiss and Make Up." This song captures that feeling to a T. Not to mention, it's super catchy and a great way to start listening to BLACKPINK if you don't already.
"Homesick"
"When I'm walking on water / All my dreams have come true / Still, nothing means nothing / Without you."
The best relationships feel like home — and when things end, losing that comfortable feeling can add another layer of sadness to the heartbreak. In this song, Lipa gives you a brief 4-minute window to experience those feelings without fully spiraling into breakup sadness. Just make sure you have tissues handy first.