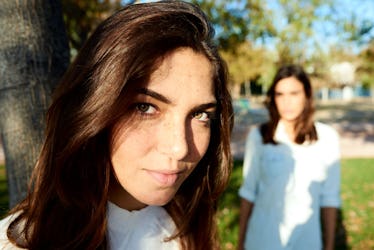 9 Women Reveal How They Set Boundaries With Their Exes, Because It Can Be Tough
Breakups can be tricky, and not just because they tend to make you sad. When someone has been in your life for a significant amount of time, it's not always easy to cut them out completely. You and your ex-partner might have mutual friends or shared activities, or maybe you even have class or work together every day. Knowing how to set boundaries with your ex is crucial, regardless of whether you'll have to see each other IRL. Exes can interfere with your life in so many different ways, so having a plan of action for communication (or lack thereof) is an act of self-love. It can help you move on in a stable and healthy way.
So many women have dealt with this problem, and it's important to remember that boundaries are going to be different for every former couple. What works for some might be a disaster for others, so you need to follow your gut about what will be best for your mental health and healing. But if you're looking for advice about how to move forward, take it from these women who have been there, done that. Here are some pro tips from people who have navigated tricky ex situations and made it out alive — and learned some lessons in the process! If your breakup protocol has you high-key stressing out, use these tips to help navigate those murky waters.