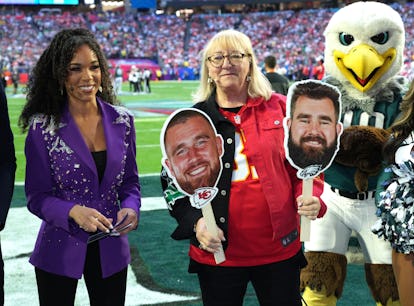 Donna Kelce's Chiefs-Eagles Outfit Honored Travis & Jason (& Taylor!)
Her bejeweled hat had the sweetest message.
Kevin Mazur/Getty Images Entertainment/Getty Images
Donna "Mama" Kelce is the ultimate football mom, and it's even more apparent when she's watching her two "extremely competitive" sons, Travis and Jason Kelce, play against each other. In an exclusive interview with Elite Daily at the highly anticipated Kansas City Chiefs versus Philadelphia Eagles game on Monday, Mama Kelce opened up about how she shows support for both of her sons' offensive positions (Travis is a tight end, and Jason is a center), as well as how they deal with tough losses and big wins.
"I'm here for the offense," she tells Elite Daily, gesturing to the motto on her sequined white "Mama Kelce" hat, which is also bedazzled with her sons' jersey numbers — a green 62 for Jason and a red 87 for Travis, on each side of the bill. The rest of her 'fit also shows she's firmly on Team Kelce, from separate Eagles and Kansas City earrings to her light-up footwear — white sneakers emblazoned with her sons' numbers on each side, along with green and red neon lights.
Kelce's comfort with gameday traditions and the city's fans is obvious in the way she moves about the space, even amidst the increased attention from Travis' romance with Taylor Swift. After warmly greeting crowds of fans during the rainy outdoor tailgate, she jokes that her hat is part fashion accessory, part necessity during the downpour.
"I can't take it off," she says, laughing and gesturing at her hair. "I'm committed to it." As she makes her way to the suite to watch the first quarter, she accepts both Chiefs- and Eagles-themed friendship bracelets from fans — a nod to Taylor — along the way.
Like Travis, Mama Kelce embraces the Swiftie tradition. Once in the suite, she rolls up her sleeves and shows off the stacks of friendship bracelets that go all the way up her arms, including numerous bangles and jewelry charms that are half Eagles coded, half Chiefs coded — much like Mama Kelce herself.
His brother beat him at everything, every step of the way along his childhood, because he was two years older.
The suite, which includes other family members, erupts into cheers during big moments for the brothers, including when Travis scores a touchdown and celebrates with a flex dance — which Swifties quickly speculated is a reference to Taylor. However, the cliffhanger game — which ended 21-17 — also marked the first time Jason secured a win over his brother.
Kelce says her sons' dynamic comes down to old-fashioned sibling rivalry. "I think Travis might have an edge on [being more competitive] because his brother beat him at everything, every step of the way along his childhood, because he was two years older," she says. "So, being able to compete with somebody that was constantly above his abilities, he was constantly striving to be the best."
The mom of two says that this competitiveness was present even when they were little. "[Travis and Jason] would run to see who could get in the car first, into the bathtub first, first into bed — well, not really for that one — but who could get to the television first so they could change the channel. It was always a competition between the two."
There's going to be a lot of losses, a lot of elation, and a lot of sadness. I think sometimes they think that today is the worst day of their life, but tomorrow could be totally different.
While the loss may have been tough for Travis, the brothers met on the field post-game for a hug and shared moment. "They've learned how to cope over time," Mama Kelce says. "There's going to be a lot of losses, a lot of elation, and a lot of sadness. I think sometimes they think that today is the worst day of their life, but tomorrow could be totally different."
"They've gone through a lot of adversity, both of them, and they know how to do it without mom, so I don't really tell them anything," she adds. But of course, the supportive mom does have some advice: "Just keep persevering, keep moving forward and things will work themselves out."