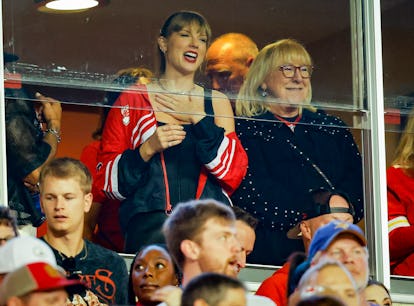 Donna Kelce's Glad Travis "Shot For The Stars" When Pursuing Taylor
It seems like Travis Kelce and Taylor Swift's relationship has won over Donna Kelce, Travis' mom. After Travis made an appearance at Taylor's Buenos Aires Eras Tour on Nov. 11, videos of him at the show went viral, including his reaction to Taylor giving him a shoutout during "Karma" and the couple's post-concert kiss. Turns out, Donna has seen all the fan-favorite moments, and she has thoughts on their growing relationship.
On Nov. 20, Travis spoke to the Wall Street Journal about his family's response to his romance — and how his mom has warmed up to the attention over time. ICYMI, on Oct. 6, Donna did an interview on NBC's TODAY show and was asked about Traylor. "Every week it's like something new, like really? It truly feels like I'm in some kind of an alternate universe. It's just really, really strange, but it's fun. It's a great ride," she said at the time, adding that meeting Taylor was "OK."
"It's fairly new, so I don't like to talk about it. It's just one of those things where you know, obviously everybody saw me," she added at the time. "I was in the I was in the boxes with with her, and it's just another thing that's amped up my life."
Apparently, Travis called his mom right after the interview, knowing she'd feel worried about coming across disinterested. Per the article, it's something Donna "still berates herself" for, but her reservedness was more about protecting their privacy than anything else.
However, now that they're public, she's more willing to comment. "I can tell you this," she told WSJ. "He's happier than I've seen him in a long time…. God bless him, he shot for the stars!"
It wasn't the first time Donna referenced Travis' bliss. When asked if she'd seen the viral videos from the Eras Tour concert on Nov. 11, Donna confirmed that she had. "It's kinda hard not to see it. It's all over the place, but you know what? They're making their own story, and they're telling it their way," she told Access Hollywood on Nov. 15. "That's as good as it gets ... I can't say anything except for I'm just glad that he's happy."
That same day, she gave a similar quote to Extra. "They're making their own story, and I just — I don't even have to say anything," Donna said. "They're doing it all themselves, so they're telling their story."
Donna seems to be a Swiftie in her own right. In a different Nov. 15 interview, she talked about being "totally enthralled" when she saw the Eras Tour movie at an Orlando move theater on Nov. 12. "I did see it and I did like it. It was awesome," Donna told People, adding that Taylor was "extremely, extremely talented."
Now that the romance is fully out in the open, it seems like Donna is having fun watching how Taylor and Travis' relationship plays out. When her sons, Travis and Jason Kelce, discussed Travis' appearance at the Buenos Aires show, they joked about converting Scott Swift (Taylor's dad and long-time Eagles fan) to the Chiefs fandom. (Scott was photographed wearing a Chiefs lanyard at the concert.)
In a post on the New Heights podcast's Instagram, the brothers shared quotes from the Nov. 15 episode. Jason spoke directly to Scott, "You're gonna let this man's devilishly good looks and relationship with your daughter from a lifetime fandom, Scott. This is ridiculous." Travis responded, "Got him over to the good side, baby." Donna chimed in too, commenting on the post, "😂😂😂😂😂😂."
Since Taylor and Travis started seeing each other, Donna has had quite a few public interactions with the "Karma" singer. They've sat together at three different Chiefs games, and Donna even shared a video of her and Taylor hugging to her Instagram on Oct. 2. The text over the video read, "Travis Kelce's biggest fans ♥️."
This article was originally published on