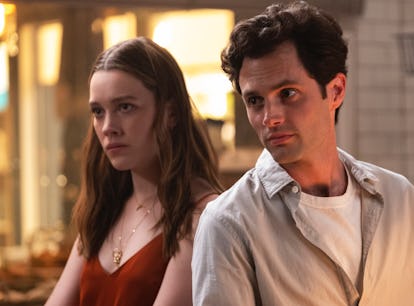 9 DIY Halloween Costume Ideas For You Fans
These may be the scariest costumes yet.
Netflix
Sure, witches and ghouls are scary, but the most terrifying monsters don't come in a Halloween costume pack. Look no further than the hit Netflix series You for proof of that. Murderous stalker Joe Goldberg is as spine-chilling a character as they come, and because his signature accessory is just a run-of-the-mill baseball cap, you can horrify all the You fans at your Halloween party this year without too much effort at all. And Joe's look isn't the only DIY You Halloween costume you can pull together this year.
Ever since it premiered on Lifetime back in 2018, You has been making countless fans scream and gasp at all the bloody murders and shocking twists. The first season saw loner bookstore worker Joe become fixated on his love interest, the effervescent aspiring writer Beck. Joe's narration through their twisted love story left a hefty body count in its wake, as he took down anyone who stood in the way of his imagined happy ending. Seasons 2 and 3 told similarly eerie stories with new objects of Joe's obsession, and even a stint in suburban married life, but the twist endings totally changed the game.
Now that Season 4, Part 1 is set to come out on Feb. 10 and Part 2 on March 10 — and we know it's taking place in London — it's the perfect time to capitalize on the renewed You fandom and channel your fave character for Halloween.
We only include products that have been independently selected by Elite Daily's editorial team. However, we may receive a portion of sales if you purchase a product through a link in this article.
1. Joe Goldberg DIY Halloween Costume
Joe doesn't really have a flashy sense of style. Mainly, he just wears a button-down shirt and some jeans. Perhaps the most important element of his outfits, though, is his baseball cap. For a sneaky guy like Joe Goldberg, it helps him stay covert.
2. Guinevere Beck DIY Halloween Costume
Beck isn't the easiest character to dress up as, but you can transform into the Season 1 star by focusing on the signature elements of her style. The first thing you should do is find a wavy, shoulder-length blonde wig that matches Beck's hairstyle.
3. Love Quinn DIY Halloween Costume
Joe met his true match in Love in Season 2, and the best way to easily portray her in her intro season is to lean into her profession as a chef. Throw on the pinstripe apron she wears throughout, and carry a fake butcher knife for the perfectly creepy accessory.
4. Forty Quinn DIY Halloween Costume
Love's enthusiastic twin brother is all about rocking cozy patterned hoodies. While you probably won't want to spend $400 on the actual Alexander McQueen hoodie Forty wears, you can grab a similar patterned hoodie he would absolutely love on the cheap.
5. Peach Salinger DIY Halloween Costume
Beck's bestie had a flair for the dramatic, which she often expressed in her over-the-top clothing choices. Take her pink fur coat, for example. You can copy Peach's signature look by getting a faux fur coat of your own in her favorite color.
6. Candace Stone DIY Halloween Costume
Joe's mysterious ex has her own signature style. She's most often seen in a leather jacket.
7. Dr. Nicky DIY Halloween Costume
Dr. Nicky is pretty much always wearing a tweed vest with matching pants during his therapy sessions. It's hard to make it obvious you're dressed as the You character with just this attire, though, so carrying around a notepad or making a homemade version of Nicky's favorite accessory by rolling up a piece of paper can go a long way.
8. Marienne Bellamy DIY Halloween Costume
Joe's newest obsession, Marienne, his boss from his job at Madre Linda's library, is all about that chic, bookish librarian look. She wears lots of turtleneck tops, romantic blouses, the occasional pencil skirt, and her recognizable velvet choker and heart pendant necklace combo.
9. Joe Goldberg Season 3 DIY Halloween Costume
OK, yes, this is the same as any other Joe costume, but strapping a (fake) baby Henry to your chest makes it specifically Joe from Season 3. You'll need a classic Joe baseball cap, a plain earth-toned long-sleeve shirt, and a baby carrier (pro tip: put a navy beanie on "Henry's" head).
As the hype around You is only growing, using some of these ideas to dress as your fave characters is guaranteed to be a big hit at any Halloween party.