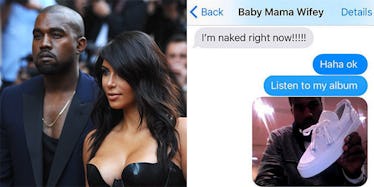 These Are The Dirty Texts Kim And Kanye Definitely Send Each Other
Getty Images
Ahh, sexting. We've all been there.
Many of us are guilty of the act but refuse to ever admit it. It seems like sending a dirty text has become a pivotal part of actually getting laid, so for many of us, it just comes naturally.
From "U up?" to "What are you wearing?" -- these texts are all part of the late-night routine. Nothing says, "Happy Thursday," like getting a sexy snap at 4 in the morning. That's 21st-century romance, people. It's truly a beautiful thing.
You know, I bet couples send each other the craziest sexts. Sexting is fun, flirty and, when it's with someone you trust, can be one hell of a ride. (LOL, ride. Get it?)
Now, think about CELEBRITY couples. If they really are just like us, they probably text the sh*t out of each other.
I would love to read the dirty text messages between Kim Kardashian West and Kanye West. I bet that stuff gets weird AF. I mean, Kimye can get CRAY. Just picture it...
You know their sex playlist would only consist of Kanye songs, no exceptions.
And Kanye would know exactly how to make Kim feel super hot. This is every girl's dream, really.
Kanye would probably be the one to start 99 percent of their late-night conversations. He'd just always have fashion Kim on his mind.
I bet Kim and Kanye are not only sexy with each other but super romantic, too.
He loves her, OK? And she loves him.
Kim wouldn't be able to go two seconds without reminding him of how she looks because that's how much she cares. #RelationshipGoals
Because even though Kim has MILLIONS of followers, she only needs one... more Instagram like.
Kanye would definitely send Kim some late-night poetry. I bet this makes her go WILD.
Honestly, I just want someone to love me the way Kanye loves Kanye Kim...
...because they have the absolute GREATEST love of all time.
Kanye should feel so special. I bet this pic was only viewed by his eyes!!
Kim should feel special, too. She has an honest guy in her life. He'll tell her the truth no matter what.
And BTW, Kanye is one hell of a sexter. I'm sure that's obvious to all of us by now.
Kanye, I hope you have sweet dreams after all these texts. Sleep well tonight, bb.
Although, he probably has a lot on his mind. All the time.
Kanye isn't the only one with lots of late-night thoughts. Kim has a few ideas of her own she'd like to share.
In the end, it looks like these two really are meant for each other.
And even if he denies it, we all know what Kanye really wants.
For more like this, check out the drunk texts Justin Bieber and Selena Gomez definitely send each other.