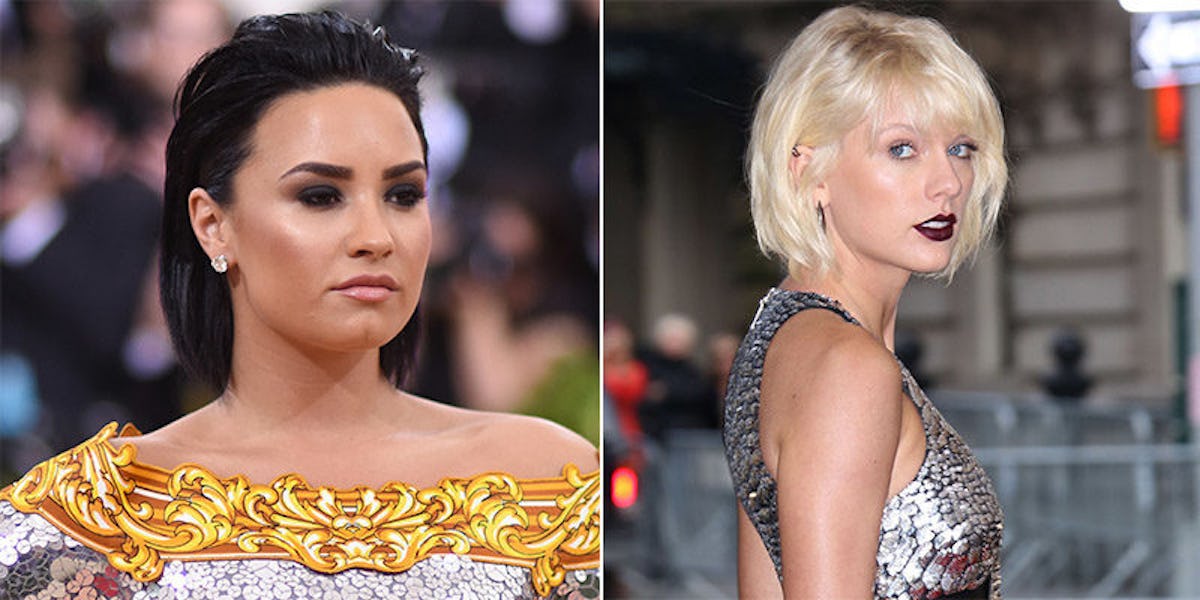 Demi Lovato Addresses Her Feud With Taylor Swift Over Kesha's Legal Battle
REX
It might finally be time to call it quits on this Twitter thing between Demi Lovato and Taylor Swift.
If you'll recall, back in February, many celebrities were publicly coming forward to voice their support of Kesha, who has forced by court order to continue working with the man who allegedly sexually abused her.
Unfortunately, this caused some drama to go down on Twitter, namely between Demi Lovato and Taylor Swift, who both stood by Kesha.
Here's what went down: Demi low-key called Tay out on Twitter for not speaking out about the injustice Kesha was facing. Then, Taylor donated $250,000 to Kesha and her family.
Then, Demi further criticized Tay, basically saying if Taylor really wanted to support Kesha, she would start a dialogue, not just give away money.
Now, four months later, Demi spoke out about the whole debacle with Tay in a profile piece for Refinery29.
When asked about the Twitter jab, the 23-year-old pop star said,
I got too passionate. I get carried away on Twitter, and that's what I said, and that's that.
This echoes the statements Demi already made on the incident about regretting taking away the focus from Kesha.
But, Demi also said she stands by the core of her argument, even if she wishes she hadn't taken it to Twitter, and she didn't exactly say she didn't approve of Taylor Swift's brand of feminism, but she pretty much implied that's how she felt. Demi said,
There are women that I don't get along with, and that's fine. My thing is, don't brand yourself a feminist if you don't do the work. I have an immense amount of respect for women like Lena Dunham... or Beyoncé, who make amazing political statements through their work.
Demi went on to say she's not going to take back her opinions or start censoring herself. She said,
I'm not going to stop saying what I believe in. I have no problem standing up for myself.
So, there you go, people! Taylor Swift and Demi Lovato will probably never be BFFs, but that's OK. I think Taylor has enough of those already.
Demi also spoke about suffering the consequences of being a former child star, her struggle with addiction and mental health and her latest album Confident. She's clearly grown a lot since her Disney days, so definitely go give the interview a full read.
Now, of course, Demi is gearing up for her Future Now Tour with Nick Jonas, and if you weren't excited for it already, you definitely will be after watching their "Carpool Karaoke" with James Corden.
And as for the Twitter feud with Tay, I think it's finally time to lay this one to rest. Just go watch Demi be delightful with James Corden, OK?
Citations: Demi Lovato, Confident At Last: "I'm Not Going To Stop Saying What I Believe In" (Refinery29)