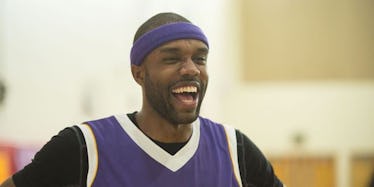 DeMario Jackson Spotted Partying After Being Cleared Of Sexual Assault Allegations
ABC/Michael Yada
It seems DeMario Jackson is trying to leave his recent Bachelor in Paradise scandal in the past.
The 30-year-old reality TV star, who was just cleared of sexual assault allegations, was spotted partying in Los Angeles by TMZ on Friday, June 23.
He was with a group of women heading for Avenue while wearing a shirt that read, "I have no tits," according to footage from TMZ. He remained quiet during his walk to the club as the cameraman questioned how he was doing.
Warner Bros. concluded its investigation into allegations of sexual misconduct between Jackson and Corinne Olympios during filming of Bachelor in Paradise just this week. Reportedly, no evidence was discovered and production will continue.
Many questioned if Jackson and Olympios will return to BIP now that the investigation has concluded. According to some, however, there are still answers to uncover.
Olympios' lawyer, Martin Singer, responded to the show's return by saying to ET,
It comes as no surprise that Warner Bros., as a result of its own internal investigation, would state that no wrongdoing had occurred. Our own investigation will continue based on multiple new witnesses coming forward revealing what they saw and heard.
He also claimed the show was not temporarily shut down due to sole remarks from Olympios.
As the allegations unfolded, Jackson lost his job and released a statement to E! saying,
It's unfortunate that my character and family name has been assassinated this past week with false claims and malicious allegations. I will be taking swift and appropriate legal action until my name is cleared.
Olympios had a different take on the events and said in a statement to TMZ,
I am a victim and have spent the last week trying to make sense of what happened on June 4. Although I have little memory of that night, something bad obviously took place, which I understand is why production on the show has now been suspended and a producer on the show has filed a complaint against the production.
Time will tell how things with Jackson and Olympios — and the new BIP season — unfold.