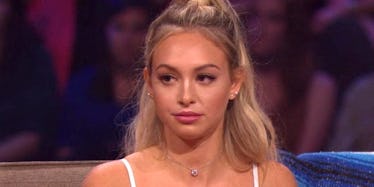 Corinne & DeMario Reunited On 'Bachelor In Paradise' & It Was Truly Awkward
ABC
Despite being only on the show for one episode, Corinne Olympios and DeMario Jackson dominated this season of Bachelor in Paradise, and that's what made their reunion on Monday night's finale the most highly anticipated moment of the whole season. Fans finally got to see DeMario and Corinne come face to face on camera for the first time since their incident that led to Bachelor in Paradise shutting down production on Monday night's reunion special. After the months of scandal and murky legal drama surrounding what happened between the two contestants in that pool on the first night of filming Bachelor in Paradise, Corinne and DeMario reunited, sitting side by side in the finale to make sense of the massive blowup that almost ended the season. Except, it was more uncomfortable than illuminating.
Although both DeMario and Corinne have given several interviews on their own since allegations of misconduct between the contestants temporarily shut down production on Bachelor in Paradise at the beginning of the season, this was the first time both of them have sat down together to explain the situation. DeMario and Corinne explained how therapy has helped them cope in the wake of the media circus surrounding the incident. And now it sounds like they just want to go their separate ways and try to forget about the craziness. DeMario said he wished Corinne happiness, and Corinne said she thinks the dark cloud hanging over them has finally cleared up.
But although this was the first time DeMario and Corinne have been interviewed together, they actually have reunited before the finale. A couple weeks back, the two ousted BiP contestants shocked fans when a photo of them embracing and kissing outside of a nightclub surfaced online. In the aftermath of the misconduct charges, Corinne and DeMario have avoided targeting one another or the Bachelor franchise when it comes to placing blame for the incident.
Though it was never clarified what exactly happened between Corinne and DeMario on that first day of filming, speculation arose from all over Bachelor Nation after reports that a producer voiced concerns over potential misconduct between the two contestants in the pool led to the series being put on hiatus and nearly canceled. Following the incident, both DeMario and Corinne released statements. Corinne emphasized she had no memory of the event and said it was her worst nightmare made real:
I am a victim and have spent the last week trying to make sense of what happened on June 4. Although I have little memory of that night, something bad obviously took place, which I understand is why production on the show has now been suspended and a producer on the show has filed a complaint against the production. As a woman, this is my worst nightmare and it has now become my reality.
DeMario maintained that he did nothing wrong and his character was being assassinated by the allegations:
It's unfortunate that my character and family name has been assassinated this past week with false claims and malicious allegations. I will be taking swift and appropriate legal action until my name is cleared and, per the advice of legal counsel, will be seeking all available remedies entitled to me under the laws.
After an investigation made by Warner Bros' legal team, the corporation found no case for misconduct and resumed filming the season, but without Corinne and DeMario. They later aired a bit of the pool scene in the premiere episode of Bachelor in Paradise, but only showed a brief, innocent glimpse at Corinne and DeMario laughing together in the pool, and didn't clarify why production was being shut down. Corinne later told Good Morning America she had blacked out as a result of mixing prescription drugs and alcohol, and has no recollection of what took place.
Thankfully, with this wrap-up interview on the Bachelor in Paradise finale, we can all hopefully finally move on and be done talking about this Corinne-DeMario situation forever now.