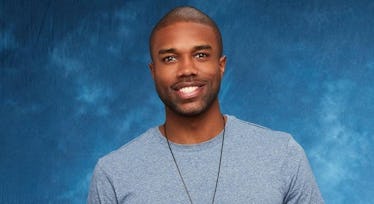 DeMario Speaks Out About Corinne And 'Bachelor In Paradise' For First Time
ABC
It's been a shocking week for Bachelor Nation after news broke that filming of Bachelor in Paradise has been suspended indefinitely following allegations of "misconduct."
According to a report from Entertainment Tonight, the alleged incident occurred in a pool, reportedly between contestants DeMario Jackson and Corinne Olympios, and left a producer claiming "misconduct in the workplace."
Update: On June 14, DeMario Jackson gave E! Online an additional statement about the Bachelor in Paradise suspension and claims about his involvement: 
"It's unfortunate that my character and family name has been assassinated this past week with false claims and malicious allegations. I will be taking swift and appropriate legal action until my name is cleared and, per the advice of legal counsel, will be seeking all available remedies entitled to me under the laws."
Earlier: Warner Bros. told Elite Daily,
We have become aware of allegations of misconduct on the set of Bachelor in Paradise in Mexico. We have suspended production and we are conducting a thorough investigation of these allegations. Once the investigation is complete, we will take appropriate responsive action.
DeMario, 30, was spotted on Tuesday for the first time since being sent home, and while he refused to comment on any specific rumors or allegations, he did have something to say about Corinne.
In new footage obtained by Entertainment Tonight, DeMario, who was originally a contestant on Rachel Lindsay's season of The Bachelorette, told reporters,
I have nothing to say. You know, Corinne's an awesome girl and that's all I have to say.
When asked if he had a message for fans, Jackson said,
Love you all. Thank you for the support.
TMZ also obtained video of DeMario, in which he refuses to respond to questions about whether Corinne was "lucid" in the pool.
When asked if he was afraid the allegations are making him look like a "predator," though, he responded,
No, no sir.
Elite Daily reached out to DeMario and Corinne's teams involving the latest comments but did not hear back at time of publication.
There are varying reports about the level of intoxication of the contestants and details of an alleged sexual encounter between DeMario and Corinne, but ABC and Warner Bros. have not commented on any details in these mentioned allegations. Host Chris Harrison is urging fans to wait for the investigation to reveal the facts.
In a statement, Harrison said,
By now, no doubt, you have heard that we have suspended production on this season's Bachelor in Paradise. I can confirm to you that this is sadly the case. Out of respect to all involved, there's only so much I can and will say at this time. Normally with a situation like this I would not say anything until the incident is fully resolved, but with all the rumors and misinformation being put out there, I don't find that to be possible anymore. Let me start by saying the safety and care of the cast and crew of our show is of the utmost importance to us. It is with this thought in mind that we made the decision to suspend filming. An investigation into the situation was started immediately. Warner Bros. is handling the details of that investigation. They're moving quickly to gather all the facts, and once that's done, a clear, concise decision can be made about where we go from here.
A source reportedly told Entertainment Tonight that DeMario feels footage from filming that day will clear him of accusations.
The source said,
DeMario feels the footage [from the show] will back up his side.
Corinne, 24, who rose to fame after starring on Nick Viall's season of The Bachelor, has yet to comment or be spotted publicly since production was halted.