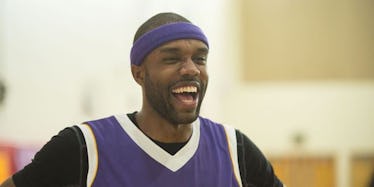 7 Things You Didn't Know About DeMario From 'The Bachelorette'
ABC/Michael Yada
DeMario Jackson is a 30-year-old contender on Season 13 of The Bachelorette and has been one of the crowd favorites since Rachel Lindsay first met him during Nick Viall's After the Final Rose finale special.
Though few fans really believed Lindsay would accept Jackson's premature engagement ring and plane tickets to Las Vegas, the gesture was certainly a nice display of his confidence in winning the competition.
But exactly who is DeMario Jackson when he isn't turning on the charm for Rachel Lindsay?
Here are a few things you probably didn't know about the smooth-talking contestant.
1. He's a hip-hop fan and has some very specific requests from the genre.
2. Jackson is also a huge Justin Bieber fan.
Yes guys, DeMario Jackson is a Belieber, according to Glamour. He's even got the T-shirt to prove it.
He shared with the magazine,
I'm a 30-year-old eight-year-old. I eat fruit snacks regularly. I'm a huge Justin Bieber fan. I go to all the concerts.
3. He owns a Ninja turtle onesie.
If Rachel makes Jackson her snuggle buddy, then she just may be curling up with the ultimate Ninja Turtles fan.
He told Glamour,
As a kid, I was obsessed with the Ninja Turtles. My mom thought I was going to be a little weirdo. I would crawl and look under sewers, so a few Christmases ago she got me this [onesie]. I wear it all the time.
4. His little sister is his best friend.
Jackson dedicated a long, heartfelt Facebook post to his little sister, Jahryn Browne, who graduated from Fresno State University in May. In the post, he refers to her as his "heart, best friend, [and] inspiration to become a better human."
5. He has no problem going commando when necessary.
No judgement. Sometimes you gotta do what you gotta do.
6. He played basketball during his childhood, and still has a few cool moves.
An episode teaser for Monday night shows that Rachel Lindsay, invited the guys on a date to play basketball in a local school gym.
Jackson was confident that he could outshine the rest of the crew because of his hooping history.
He says,
This is my zone. I grew up playing basketball. I'm going for blood. I'm extremely confident. I'm confident like Michael Jordan in the finales. I'm confident like Tom Brady in the Super Bowl. I'm straight up a winner. Born winner.
Did you see his lay-up? The guy's got a few skills!
7. DeMario Jackson also gets exposed for having a girlfriend on Episode 2.
According to ABC News, the seemingly single DeMario Jackson is actually very taken by a woman named Lexie. The hidden girlfriend visited Lindsay during the group basketball date and broke the news to her saying,
I saw that the first couple of guys were brought on to meet you and I saw one guy...Up until hours before that, he had been my boyfriend for seven months. He has lied to all of us and he's really deceived everybody here but he literally still has the keys to my apartment.
Lindsay pulled Jackson away from the rest of the guys so that she and Lexie could confront him about the allegations.
Just before the teaser cuts, Jackson asks, "Who is this?" The look on his face says quite a bit.
Fans are already calling him out about it on Instagram.
Yikes! It doesn't look like things will play out very well for DeMario Jackson, but we will all have to tune in to the Monday night episode to see how it ultimately ends.