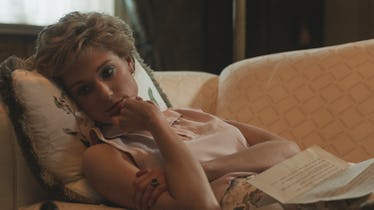 The Crown's Season 5 Trailer Is Here To Give You Full-Body Chills
The beginning of the end is here.
Netflix
Season 4 of The Crown was the biggest hit of the series so far, even before the passing of Queen Elizabeth II. Since Elizabeth's death, the show has shot to the top of Netflix's streaming charts, with viewers catching up on the seasons covering the 1950s, '60s, and '70s. It's also made The Crown Season 5 one of the most anticipated releases for Netflix, and there's a good amount of info about it — including the cast and plot details — already out there.
The Crown is quite possibly the most ambitious show in Netflix history. Conceived as a six-season, 60-year historical dramatization of the UK's current ruling monarch, Queen Elizabeth II, the original plan was to go from 1948 to 2012. In the last year or so, that plan has been altered slightly to cover from 1948 to the turn of the millennium. But the ambition remains the same: Telling the story of the Second Elizabethan Age before it draws to an end.
With two more seasons, fans still have much more of The Crown to look forward to. Here's everything we currently know about the next season:
This article was originally published on