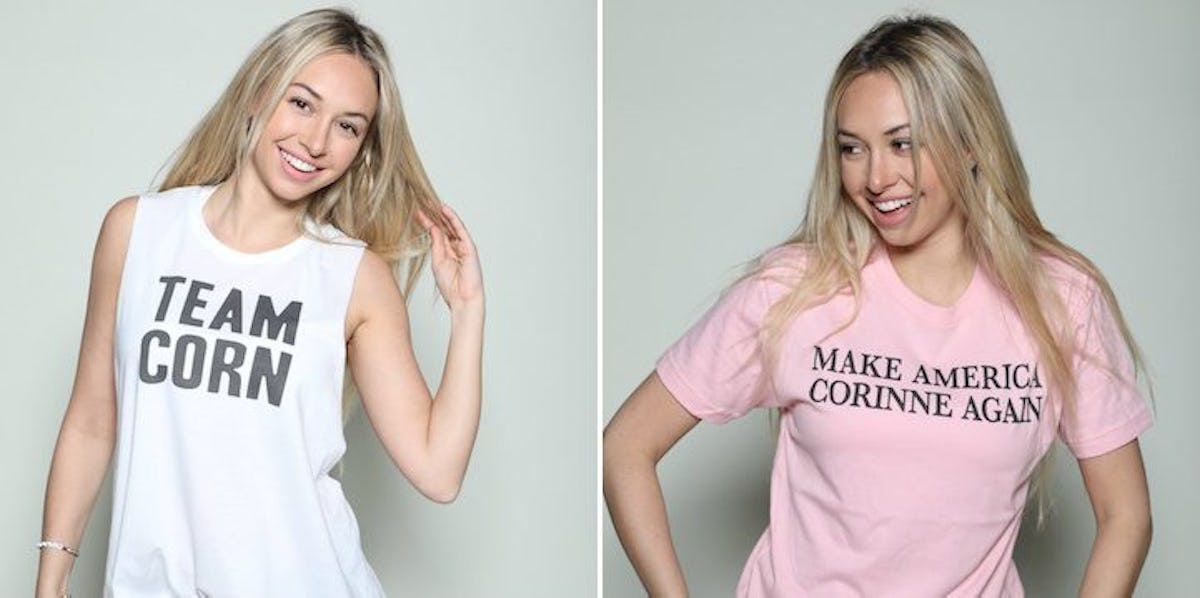 Corinne On Dating After 'The Bachelor,' Writing A Book And Her New Clothing Line
Jon Shoer / @JonnyShoer
Some people's hobbies include knitting, riding a bike, traveling or spending time with friends.
Mine happens to be following the every move of Corinne Olympios and hoping one day she'll notice who I am.
To say I love this girl is an understatement -- I want to be her best friend. I'm not alone on this either: If you watched "The Bachelor," you're probably just as obsessed.
If Corinne wasn't on Nick Viall's season, the show would have been total crap. DON'T @ ME -- IT'S TRUE!
Think about it: Without cheese pasta, naps and platinum vagines, all that's left is B-roll of Nick sobbing alone in the corner.
Would you really stay up past 7 pm on a Monday night to watch him cry like a 3-year-old child?
Nope, not one bit.
When Corinne was booted off the season (and Nick made the DUMBEST DECISION OF HIS LIFE), fans were nervous it would be the end of Corinne forever.
But, who were we kidding? We knew this show would open doors for her. The world loved her too much to say goodbye. From the start, she was more than just some "Bachelor" contestant. She was a beautiful ear of corn living in a mansion full of husks.
(No offense, ladies... just go with it.)
Since her time on the show, Corinne has worked on several projects including a brand new clothing line so fans can wear "Team Corn" merch every single day.
Need the perfect outfit to wear to work? Corn's got you covered.
Looking for a comfy, cozy look to wear to sleep? Check this shirt out.
Want every guy you date to know you have a platinum vagine? Buy it here.
Corinne's clothing line is perfect for all occasions and will take you one step closer to being just like Corinne.
I had the chance to speak with the 25-year-old star about her Team Corn clothes (I know, dreams really do come true) as well as the other ~special projects~ she's working on.
I first asked her to share the one item she's most proud to sell... aka, which is her ALL TIME favorite. Corinne told me,
I think the one I'm most proud of is my long-sleeve corn shirt. I honestly love it so much, I wish I could wear it every day. It goes with jeans, it goes with jean shorts, leggings. I sometimes wear a large as a dress, I love it.
If you don't keep a notebook filled with Corinne's best lines, here's a reminder of what she said about corn on "The Bachelor" so this all makes a little more sense:
I'm a corn husk. You gotta pull all the layers back and in the middle is this luxury, yellow corn with all these pellets of information. And it's juicy and buttery. You want to get to that corn.
Honestly, that's inspirational. What a legend.
As much as I loved that line, I gotta be honest... my favorite Corinne quote was this:
My heart is gold, but my vagine is platinum.
I legit would get that tattooed on my eyelids.
I asked Corinne to talk about how she came up with that brilliant line to say on the show. She explained,
I don't even know, I don't know how that happened... It was just kind of one of those moments where it just came out and I honestly didn't even think anything of it and when I watched it back it was kind of funny and all of a sudden it blew up out of nowhere.
Oh my God, I love her so much.
Corinne's collection gives a shoutout to all of her most memorable moments: when she wanted to eat sushi instead of pick up cow shit, when she revealed her nanny's name is Raquel, etc.
She's even selling hats that say "Make America Corinne Again" -- a gift even your 75-year-old white uncle will love.
Before you check out her website and drop 300 bucks, there's more Corinne news you should probably know...
OUR GIRL IS WRITING A BOOK!
When asked what else we can expect from her in the upcoming year, Corinne shared,
There's gonna be a book, a radio show... it's kind of gonna be a bunch of my scenarios, just things that happen to [me]... fun stories, things like that. It's gonna be really good actually.
I am going to pass out. I want excerpts from Corinne's future book read at my funeral.
After Corinne and I had some time to chat about her clothing line and make inside jokes (drinks this Friday?) she filled me in on her love life since dating on "The Bachelor."
She shared,
I mean, I'm totally over [Nick]... I've been dating here and there. It's been going well, nothing too serious yet, though.
Sorry, Nick, your girl's moved on! I also asked Corinne what kind of guys she's into and she told me someone who is supportive, successful and caring.
Standards are high, fellas. She's looking for someone who can do more than just dance shirtless on Monday nights.
The star also told E! News she's been seeing a "special someone." She said,
I've been seeing him for a little bit... I'm not ready to come out to the world about him yet. It's still in the early stages. I don't know what's going to happen but we're vibing really nicely and everything's going well and I just want it to stay that way.
Overall, Corinne admitted being on "The Bachelor" was a great experience. She said she learned a lot about herself and "can't really complain."
She also told me she's maintained friendships with most of the women on the show, except for Taylor, obviously. Lol, good times.
If you're eager to see her on "Bachelor in Paradise" or even star in her own reality series, you still gotta keep your fingers crossed. Corinne said she can't confirm or deny those rumors yet but "hopefully" they happen.
Last but not least, Corinne will actually be hitting up Coachella this weekend and doing a meet-up with fans, so if you'll be at the festival, follow her on social to find out where you can say hello.
And if you're one of Corinne's haters? Well, my girl's got just one thing to say:
Honestly, I would love to please everybody, but I can't. So if you're a hater, I'm deeply sorry for you and that really sucks for you.
CORNNNNNN. LYLAS!!!
Thanks for the chat, Corinne. I'll see you in the desert this weekend. We won't have cheese pasta, but at least we'll have each other.