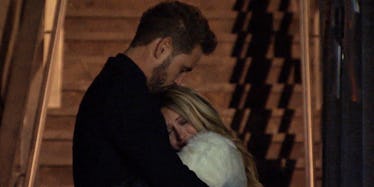 'Bachelor' Star Corinne Has Most Corinne Response To Getting Kicked Off Show
ABC
Last night, the dream died.
What I'm talking about, OF COURSE, is Corinne Olympios, everyone's favorite "Bachelor" bad girl, was finally kicked off the show when Nick Viall left her out of his final three.
Yep, after weeks of outrageous behavior, hilarious one-liners and bizarre facial expressions, Nick decided Corinne wasn't wife material after all.
And after a surprisingly tender moment post-rose ceremony, Corinne's final words were actually pretty moving.
In the limo, she had some kind of epiphany about her love life, saying,
I just want to feel loved, the way it's supposed to be. The normal way. Why can't I just have a normal relationship? I'm trying to say things that men think are appropriate, and you know what? I'm done trying to show my men how much I worship them and I love them and I support them. So if someone feels that way about me, they can tell me. And they can bring a ring to go along with it. I'm done trying to impress these men.
Raquel would be SO proud.
But the feels didn't last long as she signed off with one last great Corinne moment.
She said,
I'm done. I want to go to sleep.
And then she dozed off. Because Corinne does what she wants to do and she DGAF what you think.
OK, so it doesn't rival "Make America Corinne Again," and it doesn't come close to "My vagine is platinum," but we're not complaining.
It's been a weird season for Corinne, who get her boobs out in front of everyone, sprayed whipped cream all over herself and won our hearts, if not Nick's.
But over the last episode or two, she had an unlikely transformation from completely ridiculous to just a vulnerable girl, after confessing she loved Nick.
It's devastating Corinne is finally gone as she's been the best thing about this season, by far.
At least now she has more time to sit at home and eat cheese pasta.
Until the next "Bachelor In Paradise," anyway.