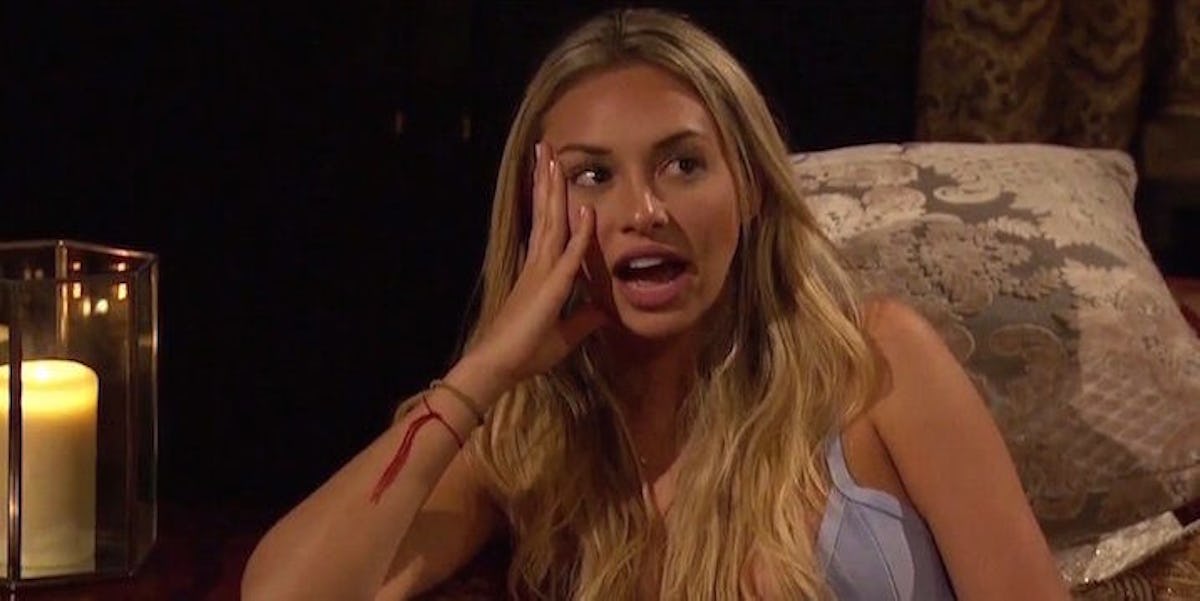 Corinne From 'The Bachelor' Talks 'Crazy' Behavior With Ellen In Awkward Video
ABC
Everyone's favorite "Bachelor" contestant, Corinne Olympios, joined the set of "The Ellen DeGeneres Show" Wednesday to talk all things "The Bachelor," including Nick Viall, Nanny Raquel and being drunk on TV.
Ellen took no time getting into it with Corinne, and she asked the 25-year-old if the woman we see on television every Monday night is in fact the "real" Corinne.
In response to DeGeneres' question, Corinne said,
That is the real me. It is definitely a real side of me, but there are many other sides to me. I'm an older sister. I run a business... I work out every day... I think you'll see a lot more of Corinne as the season goes on.
I mean, as Ellen pointed out during her interview segment, we've certainly seen quite a bit of Corinne Olympios already, right?
Watching the above clip, I can't help but feel Ellen DeGeneres was a little mean to Corinne.
At one point, DeGeneres asked "The Bachelor" contestant if she considered herself "crazy," to which the 25-year-old replied,
Watching it back, I'm funny. I think I'm funny. I actually really laugh very hard at myself. I'm like, wow, I didn't even know I was that funny. I was a little bit more promiscuous than I thought I would look.
Corinne, you had Nick lick whipped cream off your boobs, and then you straddled him in an inflatable bouncy castle.
In response to that statement, Ellen asked if Corinne was "drunk," to which Olympios answered,
There is alcoholic beverages, but I did know my limit. I never took it too far, where I would blackout or anything like that.
Uh, Corinne, I'm totally not here to judge, but there's a pretty fine line between being drunk and blacking out.
Finally, Ellen DeGeneres asked the one question on every "Bachelor" fan's mind:
Why do you have a nanny?
Speaking on the now-famous Raquel, Corinne said,
Raquel, she works with my family. She's been with us for 18 years. She moved with us to Florida from New Jersey. She's kind of like my everything. She raised my sister. She helped my mom through cancer. She's great. She's part of our family. She's not like my nanny, my babysitter.
Damn. Maybe it's time to stop making fun of Corinne for having a nanny.
Citations: 'The Bachelor' Villain Corinne Olympios Plays 'Who'd You Rather?,' Declares 'I Think I'm Funny' (Entertainment Tonight), Corinne from 'The Bachelor' Tells All (YouTube)