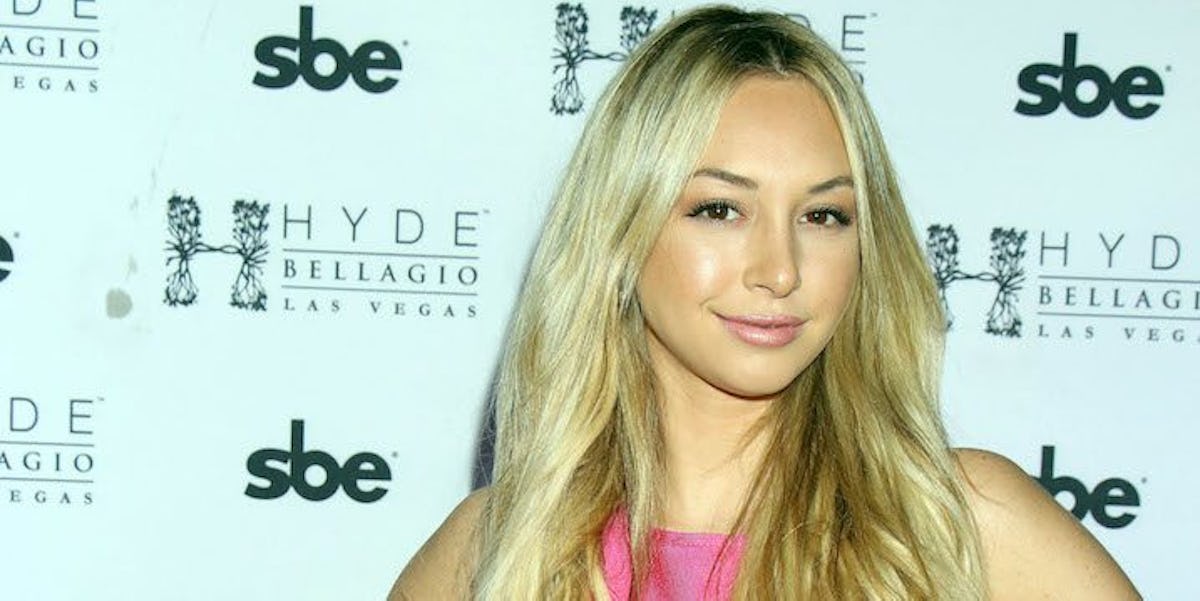 'Bachelor' Star Corinne's Clothing Line Is Here To Make You Team Corn All The Way
REX/Shutterstock
Wear your heart on your sleeve and your devotion for "Bachelor" reject Corinne Olympios on your chesticles.
The season 21 star (if we're being honest) launched a clothing line emblazoned with references to her best one-liners from the show.
If, like Corinne, your heart is gold, but your vagine is platinum, there's finally a nonverbal way to relay that vital information to the world.
Show your undying support for a woman kicked off the show only after making damn sure she'd eaten every last cheese cube in Bachelor Mansion.
Yesterday, Corinne dropped a promo video for the line — a collaboration with Riot Society — on Instagram.
Many of the T-shirts in her online shop are listed at a reasonable $22 and, according to E!, more than 500 shirts were sold in the first hour.
Corinne's success off-screen is a dream come true for the self-professed "very serious business woman."
She told the site,
It's always been a dream of mine to have a clothing line and you know I've had so many Corinneisms on the show kind of take off and then people started making shirts and I'm like you know what I'm just gonna to do it… I'm gonna try it, I'm gonna try to make my dreams come true. People have been so supportive and I'm so thankful.
Upon sharing the link to her shop with fellow "Bachelor" fan and Elite Daily writer, Eitan Levine, it became pretty evident how much our sad world needed these tiny tees.
Corinne isn't just looking out for her own interests, though. She's trying to bring the whole Olympios family into her reality TV empire.
In February, she said,
I think America is interested in me having a reality TV show with my family, my family is awesome, as you all could tell on my hometown date. America totally wants it, I hear it all the time. There is a lot of talk about, I'm going to say a lot of networks are interested. Obviously, my loyalty is here with ABC and things like that. So there's still a lot of stuff to be worked out, but we'll see what comes in the future.
YES, PLEASE.
Citations: The Bachelor's Corinne Olympios Launches Her Fashion Line and the Clothes Are Gold and Platinum (E!)