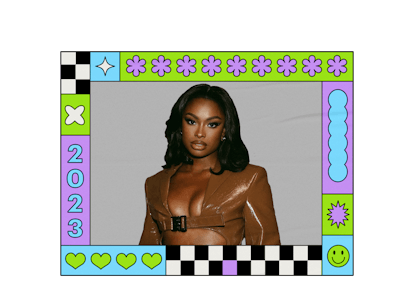 The Renaissance Of Coco Jones Has Always Been In The Cards
She's graduated from Disney alum to a new class of promising acts.
Lindsay Hattrick/Elite Daily; Shaun Andru
Coco Jones' career is in the midst of a revival. Her debut single, "ICU," opened the door to her first No. 1 on Billboard, a gold plaque, and a remix with pop-R&B graduate Justin Timberlake. While her hunger to be seen as an artist is at the heart of her newfound success, she also tips her hat to her team, along with her fans. Specifically, one fan who asked about the status of the singer's career in September 2020. "I'm just realizing how much we failed Coco Jones," the fan tweeted. It spawned a days-long chat about Jones on Twitter, and how she should be recognized as one of the stars who graduated from the golden age of Disney.
Jones — who got her start with the network in 2011 — agreed with fans. On Sept. 12, one day after the viral tweet, Jones lifted the veil on her time with Disney in a nearly 32-minute YouTube video. Aptly titled "What Really Happened," the R&B singer talked about her few wins on the network, including her breakout role as Roxie in 2012's Let It Shine. The success of the musical film was potent, so much so that a sequel was in the works. However, the project was suddenly axed.
"I was 14 when I filmed Let It Shine, so I don't think I had a moment to truly process that the second movie wasn't happening," she tells Elite Daily. She added her attention was mostly focused on her record deal with Hollywood Records at the time, which she snagged the same year Let It Shine was released. "Everything just kept moving, you know? There was a lot of momentum at that time."
While she couldn't lend her buttery vocals to Roxie again, she laid them out on her 2013 EP Made Of. However, her path to stardom was dimmed again after Hollywood Records dropped her in 2014. According to the 25-year-old singer, her then-label "didn't know what to do with her."
In the video, which has 1.6 million views, she spoke about how the industry's rampant colorism problem made her career stagnant. It's a discouraging tale many Black — especially dark-skinned — female stars have dealt with in their rise to fame, and Jones knew she had to protect her energy in order to make it.
That same year, she became an independent artist. However, this journey was filled with rocky lows that she was hesitant to share with her fans. "I had always been taught to focus my attention on positive subjects and to keep it very cute with my responses," Jones says. "So with my career, I had no plans on telling my harsh truths. I didn't think people would care, honestly. If anything, I always thought people only want to see when you're winning." However, Jones' fans proved the opposite, warmly embracing her.
I always thought people only want to see when you're winning.
"I was so surprised at the response to the video," Jones says, her voice softening as though she was recalling making the video again. "It felt so freeing, because I had spent so much time worrying about how things would play out. It felt so good to tell my story — almost in a 'You know what, I don't care anymore. I'm going to show my true self, speak my mind, and leave it at that. What else can really happen?' And man, did it happen," Jones laughs. "I didn't expect that to be a turning point in my career."
Following her tell-all video, Jones spent 2021 becoming an open book on TikTok, sharing covers of nostalgic gems and additions to newer tracks such as SZA's "Good Days," Normani's "Wild Side," and Lucky Daye's lush single, "Over."
Since her viral YouTube video, Jones has also found her voice in the acting world again. In 2022, she was cast as Hilary Banks in Bel-Air, Peacock's reboot of The Fresh Prince of Bel-Air. Much like other aspects of the series, Jones' version of the high-fashion socialite has a new twist. Instead of continuing her time as a talk show host and weather girl, the latest Banks is a chef and social media influencer.
Though she's been raiding Banks' sumptuous closet for two seasons now, she hasn't deserted her music career. From her richly layered runs and alto-like belts, Jones knows how to command attention with one note. She soon flaunted that skill on her 2023 album, What I Didn't Tell You. The record flows like a sultry nod to early 2000s R&B.
"I was heavily inspired by Brandy, Whitney Houston, Jazmine Sullivan, and Beyoncé on this album. You know, the legends," Jones says. "They've paved the way for me, even down to the visuals. I wanted this album to feel like my own version of nostalgia."
Those influences seep into her lead single "ICU," a buttery track about Jones gushing over her partner that's left a mark on her heart. The singer performed the track at the 2023 BET Awards in June, and won in the Best New Artist category. To Jones, that accolade was another stamp of approval for her career. "It was really, really rewarding to have a song that I wrote see so much love," she says. "You always hope that these things happen, but to see it in reality is beautiful."
Jones has generated enough buzz to make the public newly obsessed. And now, with her halfway through her What I Didn't Tell You tour, which began on Aug. 6, she's hoping that hype can be felt at her upcoming shows. "I want [these shows] to feel like a turn up, but also very emotional," she says. "This is a safe space for everyone to get in their feelings."