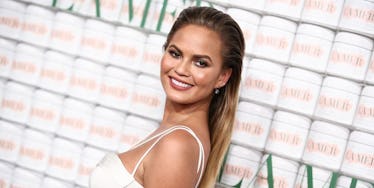 Chrissy Teigen Had The Perfect Response To Haters Who Mom-Shamed Her
REX/Shutterstock
Ever since announcing her pregnancy, Chrissy Teigen has been shamed online for her parenting choices.
First, she was shamed for her decisions to go with in vitro fertilization and pick a female embryo. Then, right after giving birth, she was judged on Instagram for showing off her post-baby bod in a crop top.
On top of that, (yes, there's more) Chrissy was harassed online for going out to dinner with husband John Legend nine days after giving birth to her daughter, Luna.
People criticized Chrissy for going on a date night and being separated from her baby for, like, two hours.
But now, Chrissy is opening up about being mom-shamed on social media this past month. The Sports Illustrated model appeared on "Good Morning America" and sat down with Michael Strahan to talk about the experience.
On the show, Chrissy shared how the date night was about nine to 10 days after giving birth, and it was a night meant for John and Chrissy to enjoy each other's company.
She talked about how she used to read blogs about motherhood but didn't realize going to dinner would lead to such extensive harassment online.
In the end, Chrissy summed it up by saying,
I think happy mommy, happy daddy, happy baby.
Michael added,
Happy life.
BOOM. Just because you become a parent doesn't mean you have to give up the other enjoyable activities in your life.
Chrissy and Michael also brought up how people are very quick to shame mothers, but there really isn't much "daddy-shaming" going on.
That's why it was extra sweet of John Legend to jump to Chrissy's defense when things started to get nasty. JOHN, YOU ARE THE BEST.
How about, from now on, we give Chrissy a break and let her live her damn life, OK? Baby Luna is very, very lucky to have her.
Citations: Chrissy Teigen Mom Shaming (Daily Mail)