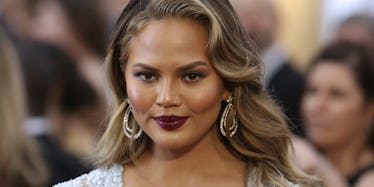 Chrissy Teigen Just Gave Birth And Her Post-Baby Body Is Already Flawless
REUTERS
Chrissy Teigen is already a pro when it comes to being a mother, and she only had baby Luna in her life for a few weeks.
Luna Simone Stephens is a very adorable child. She straight-up looks just like Chrissy and John Legend. Chrissy and John expressed on social media several times how lucky they are to have her.
However, Chrissy has been receiving a lot of hate on the Internet over the past couple of months when it comes to her parenting choices.
The Sports Illustrated model has been criticized for a number of reasons, including her decision to implant a female embryo. She was also shamed for going out to dinner with John nine days after giving birth. LOL, haters gonna hate, that's for sure.
But now, Chrissy is being criticized AGAIN for wearing a crop top to Mother's Day brunch. *GASP* THE HORROR! HOW COULD YOU SHOW OFF YOUR MIDRIFF, CHRISSY? HOW COULD YOU BE SO CONFIDENT AND HAPPY WITH YOUR BODY?!
Yup, it's true. People are not OK with Chrissy showing off her slim post-baby body. According to her Instagram followers, Chrissy is in the wrong for showing off her flat tummy because other women can't achieve the same figure after giving birth.
Instead of focusing on the haters, I'd like to take this time to talk about how freakin' flawless Chrissy looks as a new mom.
Chrissy Teigen totally killed it in this crop top. You go, girl.
Even when she had her baby bump, she looked flawless.
Chrissy will never let the haters get in the way, that's for sure.
Chrissy, you're beautiful. Never let anyone tell you otherwise.
Chrissy also took the cutest Snapchat video of her multitasking while breastfeeding Luna. You can watch it in the video above!
Citations: Chrissy Teigen Instagram Haters (Mashable), Chrissy Teigen Snapchat (Daily Mail)