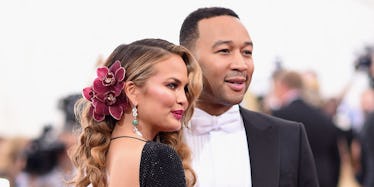 Chrissy Teigen Shuts Down People Judging Her Decision To Have A Baby Girl
Getty Images
We already heard about Chrissy Teigen's bumpy road to pregnancy and decision to go with in vitro fertilization, but recently, we learned she and John Legend also got to pick out the gender of their unborn child: a baby girl.
Chrissy told PEOPLE,
Not only am I having a girl, but I picked the girl from her little embryo. I picked her and was like, 'Let's put in the girl.'
Apparently, some people on Twitter saw this as an opportunity to tell Chrissy what she should and shouldn't do with her body.
In particular, one Twitter user accused her of throwing away a "natural blessing from God" -- or I'm assuming that's what the tweet said, anyhow.
The tweet and the account were since deleted, probably because that's what you do when Chrissy Teigen f*cking wrecks you on Twitter.
And that's exactly what happened next.  Chrissy went IN via a series of tweets defending her decision.
First, she shut down the hater by reminding us not all women are blessed by God with natural fertility.
Then, she advised all the judgmental peeps out there to get with the times, people.
Things maybe got a little weird when she talked about picking a bacon-loving, magical baby with size 7 feet, but OK, I went with it.
Like she says, why would random selection make her a better parent? Where's the line?
She said she "forgot it's controversial" with a subtle jab at the close-minded haters.
She conceded people are entitled to their beliefs, but she's not going around yelling at pregnant women for their choices.
And then Chrissy signed off with this cheeky gem.
You go, Chrissy! You tell those haters. This is your decision and no one else's. I can't wait to see your baby girl.
Citations: Chrissy Teigen Shares Why She Chose to Have a Daughter: John 'Deserves That Bond' (PEOPLE)