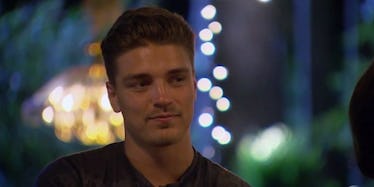 Twitter Is Just As Pissed As You Are That Whaboom Attacked Dean On 'Men Tell All'
ABC
The Bachelorette: Men Tell All is supposed to be all about the drama. However, one person took it a step too far. Whaboom attacked Dean on Bachelorette: Men Tell All and Twitter is so, so pissed. Of all the contestants to go after, Whaboom made the wrong choice. You cross Dean, you cross all Bachelorette fans.
Early in the episode, of course, Whaboom had to be confronted by all the men for his ridiculous antics and shameless self-promotion. During the season, some of the guys seemed mildly amused by Whaboom, but Men Tell All took on a whole new tone. No one was amused or laughing – everyone was actually pretty annoyed. While most of the heat was centered around the Whaboom and Blake feud, Dean got hit in the crossfire. NO ONE LIKED WHAT HAPPENED NEXT.
Whaboom tried to explain his side of the story when he started to get interrupted by the other guys. Dean actually tried to help get everyone back on track and told Whaboom to sit back and continue. That's when it happened. Whaboom told my sweet, precious Dean to "shut up." Excuse me?! No, no, you do not tell Dean Unglert to shut up.
I am apparently not the only one who was upset by this because Twitter went wild. Don't mess with Dean, y'all. In the video below, you can see the incident at about 1:15. Get ready to see red.
Twitter is not messing around.
Fans are legit ready to throw down for Dean.
Even the live audience was ready for a brawl.
Who run the world and Dean's fan club? Girls (probably).
The bromances are strong this season, don't mess.
We're all here for you, Dean.
I hope Whaboom realized his horrible mistake and apologized to Dean. Lesson learned: You tell Dean Unglert to shut up, and Twitter will shut you up.