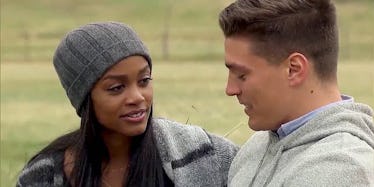 'Bachelorette' Rachel Lindsay Claps Back At Racial Instagram Post About Dean
ABC
It's been a bumpy road this season on The Bachelorette. No, I'm not talking about the actual process of narrowing down the guys; the real cringe factor is coming up in some of the tone-deaf comments fans and former Bachelor contestants are making about the first black bachelorette. For instance, after Rachel Lindsay sent Dean Unglert home, one of the contestant's friends posted a photo with him, along with an eyebrow-raising caption. But Bachelorette Rachel's comments on Dean's buddy's Instagram prove she isn't afraid to confront the haters head-on.
Over the weekend, a woman named Lauren posted a cute pic of herself with The Bachelorette's most recent castoff Dean Unglert, but caught the eyes of Bachelor Nation with a questionable caption. "Went black, but came back," Lauren wrote. And Dean himself even got involved, commenting on the post "Lololol at the caption." But Rachel wasn't laughing quite as hard.
The Bachelorette star took some time to clarify exactly what went down between herself and Dean. Rachel commented on the photo, writing "Sent back... he didn't come back lol." Queen of savagery! Lauren actually deleted the whole post shortly after Rachel commented on it, but Bachelor Nation got all the screenshots. Check it out below.
Clapping back at tone-deaf commenters online has become something of a job for Rachel Lindsay during this season of The Bachelorette since she's definitely faced with more cringe-inducing "jokes" than any bachelorette before her just because of her race.
Earlier in the season, former Bachelor contestant Leah Block compared Rachel's season to Love and Hip Hop on Twitter, and Rachel was quick to shoot Leah a savage clap back pointing out the latent racism. Leah deleted her tweet and posted an apology shortly after Rachel's response.
Rachel's season of The Bachelorette is just about over, but her social media savagery will hopefully continue well into the future. Because honestly, that's been the best thing to come out of this season.