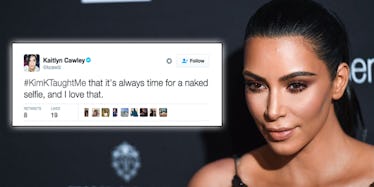 Twitter Bonded Over Things They Learned From Kim Kardashian For Her Birthday
Reuters
Kim Kardashian West made it through her 36th year of life and, holy crap, did it test her for better and for worse.
The peak? She welcomed her second child in December with husband Kanye West.
The pit? She was robbed at gunpoint in her Paris hotel room October 3, causing her to take time out of the spotlight and off social media.
Though Kim won't be posting this year, Twitter is celebrating her life thus far with hashtag #KimKTaughtMe. It turns out we've all learned some valuable lessons from the queen of reality TV.
Crying is a stunning expression of your ability to face your feelings.
Wait until you meet your equal to start a family.
Even if you get married a couple times before you settle down with him or her.
Take. Pictures. Of. Yourself.
Beauty doesn't last forever. Eventually, we're each just a pile of bones covered in tiny worm poops. Don't wait for someone else to tell you you're a hot, delicious stack of pancakes. Celebrate your own gorgeousness on your own terms.
Embrace your sexuality.
Also, be a respectable human being. These are two positive, unrelated behaviors that, when explored to their full potential by all of us, can create a worldwide utopia of hoes with class.
EAT, MAMA.
Honestly, eat. It's the best.
Don't give up.
You may spend the rest of your life hearing you don't deserve to be where you are from virtual strangers but just keep taking their money and moving forward.
Respect the booty.
A moment of reflection for my fellow big booty boys and girls: Butts rule so hard.
Be proactive as hell.
No one else is going to do it for you. Not even Kris.
Prove your haters wrong.
#KimKTaughtMe that proving the haters wrong is the best feeling!!! pic.twitter.com/jQGdblSvyJ — Annette Reid (@AnnetteReid24) October 21, 2016
Then release them from your consciousness because haters don't deserve to take up space in your brain that could be better utilized coming up with fresh ways to prank your momager.
Embrace your shape.
Make it a point to fall in love with your reflection whether you're in sweats at the supermarket on a lazy Sunday or eight months pregnant in Hermés heels.
Curate a Helga Pataki-grade shrine in your own honor on Instagram.
This is what y'all came for, anyway. Admit it.
Be a #NastyWoman.
This is my own tweet. I've included it to demonstrate the power of self-promotion, which Kim/Nance has so expertly demonstrated over the years.
RT if you agree Nancy deserves to speak her mind. "Like" if you're a freak about RTing.
Stay honest.
You don't need to stoop and sabotage. Walk the high road, occasionally pausing to release a phone call recording or two.
Make sure Eitan fully comprehends what happened during the Revolutionary War.
Consider taking this particular lesson with a grain of salt. Eitan Levine is an Entertainment Writer at Elite Daily and the self-professed "fucking dumbest."
He and I once engaged in a full-on screaming fight while watching Mel Gibson's "What Women Want," all the while displaying a commitment to drama we both learned from Kimmy K.
Kim's social media may remain dark all day, but don't let her absence stop you from honoring 36 years of leading by glorious example.
Today, we eat, pray, love and ugly cry the way #KimKTaughtMe.