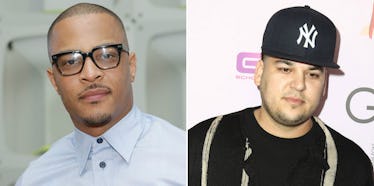 Rob Kardashian Reportedly Calls Out T.I. For Having Threesome With Blac Chyna
Lars Niki/Greg Doherty/Getty Images
T.I. has thrown himself into the Rob Kardashian and Blac Chyna drama by allegedly commenting on one of Kardashian's posts telling him to stop posting about Chyna.
I mean, yes, Kardashian should definitely give it a rest to say the damn least, but T.I., why would you willingly throw yourself into this ring?! Kardashian's fragile masculinity is not going to let you get out without a fight!
And a fight the poor little boy did cause, as right after T.I. reportedly posted his Instagram comment, Kardashian supposedly responded saying he has no room to talk since he had a threesome with Blac Chyna.
Wait... what?
Elite Daily reached out to Rob Kardashian, Blac Chyna, and T.I.'s teams for comment on the reported Instagram conversation, but did not hear back by time of publication.
According to a screenshot from an Instagram account called BallerAlert (sick name, bro), T.I. commented on one of Kardashian's posts claiming,
Why bring ya business to IG tho? Look, You got worked bro….but at least keep it to yourself, you letting the world know you a duck. I mean a BIG DUCK, a mighty duck, Ronald McDonald the Duck, Scrooge McDuck, Howard the Druck, Huey Dewy & Lewie… save the #DuckTales Just hold this L, kiss ya kid & cut ya losses& move on… u got no moves bro.
Kardashian's Instagram account has been suspended since posting revenge porn of Blac Chyna for hours yesterday (literally, thank you, Instagram, get him out of here), so we can no longer see T.I.'s alleged comment or Kardashian's response. But thankfully, screenshots are forever.
According to E! News, Kardashian allegedly responded by saying,
Since TI wanna chime in on business that don't concern him let's talk about the threesome you had with Chyna and your baby mama Tiny. Don't speak on my daughter when u having threesomes with young Chy and Tiny ::: and I put that on my daughters life since u wanna speak on my daughter,,, damn shame. Chyna told me everything about your threesomes with you and her and Tiny. U got no moves bro ;;; Correction ::: TI paid Chyna to have sex with Tiny and him
In Kardashian's alleged response, he claims that before he and Chyna were together, she had a threesome with T.I. and his ex-wife, Tiny, which T.I. allegedly paid Chyna for.
Rob, seriously, stop. Stop everything you're doing. Stop tweeting. Stop talking. Stop digging yourself into the already miles-deep legal hole you're in.
We currently have no way of confirming Kardashian's allegations, just like we have no way to confirm the drug and alcohol abuse Kardashian accused Chyna of in his posts yesterday.
But what we do know to be fact is that everything Kardashian posted yesterday might constitute as revenge porn under California state law.
And I imagine this comment about T.I.'s alleged relationship with Chyna will only add more fuel to Chyna's legal fire. She's already having her lawyer look through "legal remedies."
Hey Rob, the next time you think about sexually harassing someone, f*cking don't.