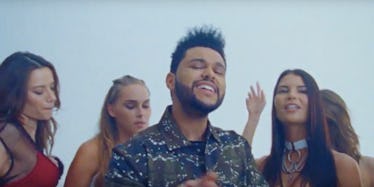 Sorry Selena, The Weeknd Dances With Hot Models In Raunchy New Music Video
YouTube
Selena Gomez must be a very trusting girlfriend, judging from the steamy new music video The Weeknd is starring in.
The stripped-down clip follows The Weeknd as he gets down with a room full of video vixens in various states of undress.
The video in question is "Some Way," a slick pile of braggy verses helmed by NAV, a rapper signed to The Weeknd's own record label, XO.
Though the song claims to only feature The Weeknd, his verse and chorus actually make up the bulk of the track.
If Selena does get a bit worried watching her new boyfriend hanging out with a bunch of hot ladies, maybe The Weeknd's lyrics will reassure her of his devotion.
The central theme of the song is about how easy it is for The Weeknd and NAV to steal girls from other men, so when it first came out, it was obviously immediately interpreted as a diss track to Gomez's famous ex Justin Bieber.
Over a laid-back, synth beat, The Weeknd seems to throw down the gauntlet to the Biebs, claiming Selena is enjoying her new man a lot more... you know, where it counts.
I think your girl, think your girl, fell in love with me / She say my fuck, and my tongue game a remedy.
Yeah, kinda hard to misinterpret that jab!
And The Weeknd doesn't just keep things personal — he also calls out Bieber on a professional level in his verse, saying he's "got some bars" if the Biebs decides to retaliate with a diss track of his own.
This is also probably a response to Bieber calling The Weeknd's hit single "Starboy" "wack" in an Instagram story last month.
I'm not one to encourage any sort of hate, but if this little rivalry leads to more Biebs/Weeknd diss tracks, I'm gonna be the first to click play on them.
Check out The Weeknd's model-filled music video below.
Citations: Watch Nav and the Weeknd's New Video for "Some Way" (Complex)