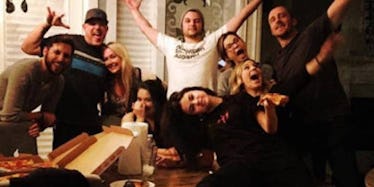 Selena Gomez Gave A Shoutout To The Weeknd In This Pic And Nobody Noticed
Instagram
Just how serious are Selena Gomez and The Weeknd?
You be the judge! Not only have these two lovebirds been spotted out engaging in countless PDA sessions, but Selena also paid for The Weeknd's $30,000 birthday bash bill last week.
The craziest part? She wasn't even there! She was busy in NYC for New York Fashion Week and still managed to show her man how much she cares.
They've also been on quite a few romantic getaways together already (yacht included).
Sure, that may seem like all of the proof we need to confirm their romantic connection, but it's not. The people (except for Justin Bieber) want to see MORE.
Luckily, Selena Gomez and The Weeknd, whose real name is Abel Tesfaye, aren't scared to drop hints they're getting super serious together.
After The Weeknd shared a photo on Instagram about celebrating his 27th birthday, Gomez was quick to "like" the picture on the photo-sharing platform without hesitation.
Most recently, Selena shouted out The Weeknd in one of her own Instagram photos and hardly anyone noticed. The "It Ain't Me" singer shared a photo of herself hanging out with her squad, but there was one person missing: The Weeknd.
The 27-year-old "Starboy" singer is currently busy tearing up the European leg of his tour and wasn't able to hang out with Gomez and her team. However, if you take a good look at Selena's photo, you'll see The Weeknd actually is there... in spirit!
Selena Gomez subtly shouted out The Weeknd in a new Instagram photo. Do you see it? Take a good look...
It turns out Selena kept The Weeknd close to her heart (literally) by wearing his Starboy tour merch since she couldn't be with him.
At this point, there's no denying these two are getting VERY serious. It doesn't seem like Bieber's sarcastic shade toward The Weeknd is going to stop Selena from openly claiming her new man.
An inside source close to the couple spoke to E! News, revealing,
They are falling for each other.
Ya think?!
The source went on to say, "Abel is proud to have Selena by his side," and claimed they both have a "crazy connection" together.
Still, Selena Gomez has made it abundantly clear she does not want the men in her life to define her. She refuses to let her relationships distract from her great success as an artist.
Citations: Selena Gomez Keeps The Weeknd Close Even When They're Not Together (E! News)