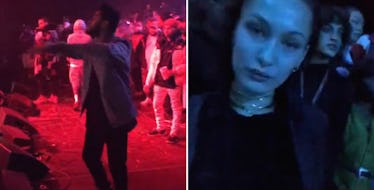 The Weeknd And Bella Hadid Reunite For First Time Since Selena Gomez Drama
Instagram
The Weeknd and Bella Hadid finally ran into each other, because that's what happens when you date in your ex's friend circle.
It happened at NYC's Madison Square Garden, where both The Weeknd and Bella attended a concert honoring rapper A$AP Yams, who died two years ago on Wednesday's date.
The Weeknd actually performed a song, and Bella was in the audience with Kendall Jenner, who probably came along with A$AP Rocky.
We know this thanks to Ben Baller, a celebrity jeweler, who captured both of them on his Instagram story.
Other celebrities who attended include Kendrick Lamar, French Montana and Tyler, The Creator.
Even though they weren't together in the pics, it'd be pretty weird if Bella and Abel went the whole night without saying "hi" when they were in the same room.
So I think it's safe to assume some sort of awkward, forced small talk went down that night.
This is the first time (that we know of) the ex-couple has been in the same room since Selena Gomez totally put her face all over Abel's face.
Since then, Bella has unfollowed her old friend Selena on Instagram. And, according to sources close to her, Bella feels Selena is just "using" The Weeknd.
So, it doesn't exactly sound like the ex-couple is on the best of terms right now. At least Selena wasn't at the concert, too.
This is probably extra awkward for Kendall and Kylie Jenner, who now have to pick sides between their two friends.
Earlier on Wednesday, Kylie was seen hanging out in NYC with The Weeknd.
And then that very same night, Kendall was chilling with Bella at the concert.
Oof. This whole thing is way too messy.
Again, this is why you shouldn't date in your ex's friend circle! It turns into this weird, incestuous web.
Anyways, the one person who doesn't seem to be bothered by this romantic tangle is The Weeknd.
Dude just dropped a new video. He's not thinking about any drama right now.
You just keep doing you, Abel!
Citations: Bella Hadid and The Weeknd Cross Paths for the First Time Since He Started Dating Selena Gomez (E! News)