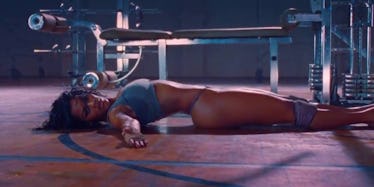 You May Know The Sexy Star Of Kanye's 'Fade' Video From 'My Super Sweet 16'
YouTube
There is a good reason you spent the entirety of Kanye's "Fade" music video whispering to yourself,
Wait, I know this sweaty gym lady.
The MTV VMAs were Sunday night and although Taylor Swift's boycott was definitely noticeable, the show went on and we got our fair share of classic MTV award show moments.
Beyoncé made us weep, Rihanna made us loudly cheer while watching alone in our apartments and Kanye did some Kanye stuff before releasing Kanye's newest music video, the second Kanye-iest music video of all time (right behind "Famous").
Feast your eyes on the music video for "Fade."
Let me reintroduce you to Teyana Taylor, former "My Super Sweet 16" diva and current dance legend.
If Teyana seems familiar to you, it's because you probably remember her from MTV's "Next"/"Date my Mom"/"PUNK'd"/"Room Raiders"/ "Hi I'm Gideon Yado And This is MTV News" years.
Teyana has grown up a little bit since her episode on "My Super Sweet 16," which you can watch here.
Jay Z, Nick Minaj and Usher have all used her in past videos.
Teyana has become a sort of industry staple when it comes to major stars looking to add dance to their work.
Beyoncé even had Teyana choreograph the video for "Ring The Alarm"
She's also making waves as a solo artist.
When she was just 15, Teyana signed with Pharrell's Star Trak Entertainment (She's since moved on to Kanye's G.O.O.D. Music label) and had her song "Google Me" go oddly viral.
In 2014, her album VII reached the #1 slot on Billboard's top R&B/Hip-Hop Albums chart.
All that being said, I have no effing clue what this whole thing with her husband-- basketball player Iman Shumpert-- was about.
KEEP SLAYING.