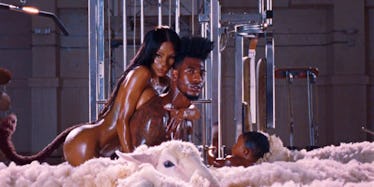 Nothing Will Terrify You More Than The Ending Of Kanye's New 'Fade' Video
TIDAL
Kanye West just concluded his randomly allocated "four minutes of speaking time" at the MTV VMAs.
While he didn't exactly drag Taylor in the way many of us expected, he delivered a new music video for his song "Fade," starring Teyana Taylor and her insane bod.
The music started off giving us major "Flashdance" vibes, and we patiently waited for "What A Feeling" to start playing in the background.
The video continued in a weight room, and Teyana's body made us all regret the pizza we've been eating for the past few hours.
Yes. That's what I look like at the gym, too.
Then, as we all do at the gym, Tey got a lil' sweaty and needed to cool off with a HOT shower.
Friendly reminder: "Fade" is still playing!
Then, the screen cuts to this.
What. Is. This.
Help. Send help.
I am not well.
So... uh... the big takeaway here is just when you expect Kanye to do a semi-normal music video of a girl dancing, he will surprise you with a quick shot of the Cat in the Hat's hot cousin.
I can only assume the entire video is an "Animal Farm"-style allegory for all famous people being... cats? I don't know.
Watch the full video here.
For more live coverage of the MTV Video Music Awards, check out Elite Daily's Facebook page and Snap Story, elitedailysnap.