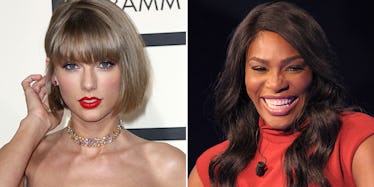 Taylor Swift's Squad Just Scored Its Most Badass Member Yet: Serena Williams
REX/Shutterstock
I've come to believe Taylor Swift can do whatever the hell she wants and still have a whole group of friends.
Even after Taylor was exposed for her phone call with Kanye West, went through a public breakup with Calvin Harris AND got attacked by the media over Hiddleswift conspiracy theories, she still has a powerful girl squad by her side.
Seriously, everyone wants to be her BFF no matter what! Well, except for, like, Kim Kardashian, but that's a different story.
Over the past year, Taylor gained and lost some squad members, but for the most part, she's had a core group of ladies to depend on.
On Thursday evening, Taylor spent the night with her squad in New York City while attending a concert by Eliot Sumner, Sting's daughter.
She went to Bowery Ballroom with her main biddies: Karlie Kloss, Cara Delevingne, Zoë Kravitz, Dakota Fanning. You know, the usual.
According to the photos, however, it looks like Taylor Swift's squad just scored its most badass member yet: Ms. Serena Williams.
Yup, the athlete joined the gang as they hit the town. GET IT, LADIES.
Welcome to the squad, Serena!
Damn, I'm jealous. This Twitter user gets it. I FEEL YOU, GIRL, I FEEL YOU.
Man, Tay has had an action-packed week. On Wednesday, the 1989 singer was spotted attending a listening party for Kings Of Leon with a few other ladies from her squad.
Martha Hunt posted a picture of the group backstage with the caption "Sober." OH MARTHA, YOU CRAZY GIRL!
Obviously, fans were loving it. Squad goals AF. The internet is obsessed.
Taylor has kept a low profile since her split from Tom Hiddleston, but it's great to see her spending time with friends and enjoying her night out.
Now, all she has to do is drop a new album and we'll all be happy campers. THANKS IN ADVANCE, GIRL!