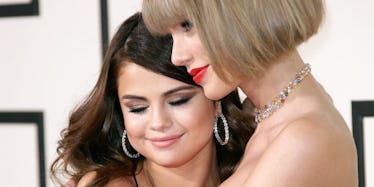 Taylor Swift Screaming Over Selena Gomez's AMAs Win Defines Best Friend Goals
REX/Shutterstock
Taylor Swift may not have been in the room to cheer on Selena Gomez during the 2016 American Music Awards, but she sent her full support from afar.
Selena won the AMA for Favorite Female Artist- Pop/Rock at the awards on Sunday night. Taylor was watching the show on television and filmed her reaction to Selena's win.
She posted the video on her Instagram story, and it's... a lot.
Taylor's IG story just shows the television playing the awards show with the captions on. So you may not actually see Taylor's reaction, but, oh boy, you can hear it.
As soon as it's announced that Selena is the winner, all you hear on the Instagram video is a loud, continuous, cheerful scream from Taylor.
Taylor added the word "BABY" to the Instagram story, which is sweet, although a little awkward given the Justin Bieber-esque connotation of that word.
But in any case, it was yet another wonderful showing from Taylor of what it means to be a best friend. Taylor was not at the AMAs and had not been nominated for any award herself.
Technically, she didn't even have to be watching them. But she was -- and diligently so -- to support her friends.
Earlier on Sunday, Taylor posted an Instagram to support Gigi Hadid as she was about to go on to host the AMAs.
This was Selena's first professional appearance since taking a mental health break and going to a rehabilitation center in Nashville, Tennessee.
She spoke about her mental health break when she accepted the award for Favorite Female Artist. In an emotional speech, Selena said that she had been "absolutely broken inside" before she took the break.
Congrats, @selenagomez! Here she is with a sweet message when accepting the #AMAs for Favorite Female Artist- Pop/Rock! pic.twitter.com/JCeE9IijDU — AMAs (@AMAs) November 21, 2016
Taylor may not have been in the room to awkwardly dance along to the musical acts, but she still somehow managed to control the narrative of the night.
This was thanks to her Instagram postings, as well as the new Apple commercial showing Drake working out to her songs.